Review: Lindsey Stirling Brings Vibes of Hope, Love and Gratitude to the Santa Barbara Bowl
Lindsey Stirling touched the hearts of the Santa Barbara Bowl audience on Aug. 15. (Dougal Brownlie/LOL-LA)
The house lights darkened, the crowd erupted and the familiar sound of an electric violin filled the air. The boisterous 28-year-old hip-hop, dancing violinist appeared on stage, backlit by blinding white light. Her familiar silhouette of an arched back, knees bent and extended violin pose brought a roar of applause from the audience. Lindsey Stirling was in Santa Barbara.
Saturday, an estimated 2,500 fans gathered in an outdoor amphitheater in the hills above Santa Barbara to listen and watch a sold-out, heart thumping, pop-rock concert. Consisting of three women who really know how to rock while combining hip-hop, dubstep and electronica, these artists share a common style in their music. Stirling, the star of the show performed her second-to-last concert in the Music Box Tour, to fans who could barely get enough. Olivia Somerlyn from San Francisco, performed first in the concert followed by Lights, from Ontario, Canada; the two would co-star with Stirling on her yearlong tour. The two ladies are growing in popularity quickly. Somerlyn is known for her hit song "OXO" and multiple album maker, Lights, has a handful of known songs including "Up We Go."
During her performance, Stirling, the energetic dancing violinist opened up to the crowd and talked about the importance of overcoming failures in one's life. Her show seemed to resonate a sense of overcoming by focusing on positivity, and throughout her segment of the evening her songs were focused on the meaning of hope, love and gratitude.
The songs "Take Flight," "Shatter Me," "Transcendence" and "Song of the Caged Bird" are among the many she performed that evening, each pulsating with this message of freedom. The songs were written with the purpose to encourage her listeners to free themselves from fear, depression and loneliness and to raise their self-worth by accepting one's self. The feel-good message she talked about throughout the performance echoed her own struggle to overcome depression and to break free of an eating disorder that held her down in her past.
"Best concert I have ever seen," said Shannon Robertson – who came from Glendora to enjoy her 44th birthday with her daughter, Celena – after the concert. "A lot of people aren't that brave, she just came out and said all that stuff about her life … Good energy, it was just amazing!"
During Stirling's second song, a gravestone could be seen on stage with Piers Morgan's name on it, the judge from "America's Got Talent" that said there was no room in this world for a dancing dubstep violinist and who kicked her out of the quarterfinals of the talent show in 2010. "Moon Trance" shows Stirling imitating the pied piper with her violin to ward off zombies by making them dance in a graveyard. Morgan earned a place in her virtual graveyard because there is no room in her show for that type of negativity. Her motto has been telling people that they can be who and what they want to be ever since, and that theme continues strongly today.
'The same reasons I was told I wouldn't succeed are the reasons people travel hundreds of miles to see me now," Stirling writes on her website's "about" page.
Her music brought people of all ages and demographics to the Santa Barbara Bowl. It was not uncommon to see young teenagers sitting next to a senior couple sipping wine, while also sitting in front of middle-aged families, each with the same bubbly smile of approval as they watched Stirling and her dancers prance around stage to the smoke and light show that lasted nearly an hour and a half. Her style of music not only draws younger crowds but also an older generation that generally appreciates her classically trained expertise of violin.
The Gilbert, Ariz. native also attracts many fans through shared the belief of Mormonism. Just last Friday, the day before her Santa Barbara concert, Stirling graduated from Brigham Young University in Provo, Utah, before  quickly rushing to California to put on her spirited show. Stirling is not ashamed to admit her beliefs and is quick to explain that she gets her spirited message of self-worth from her faith.
"I'm Mormon, that's how I heard of her," said Susan Lazenby, a senior from Santa Paula. "It was just kind of magical, that's all I can say … Just eye popping. I have been a fan since I first saw her on YouTube."
Susan came to the show with her husband, Steve, as a gift for their anniversary.
The show nearly ended with what many say is Stirling's most important song, "Take Flight." The song was written about a fan of hers that had dealt with suicidal thoughts and tendencies due to bullying. She wrote the song as an inspiration to take hold of one's self and worth, therefore taking flight towards happiness.
As most concert attendees do, the crowed roared in standing applause for an encore, and everyone was beside themselves when she performed "Beyond the Veil" which merged into her take on "The Phantom of the Opera," mixing classical with rock and touching on most of the popular themes from the well-known show as well as touching the hearts of the audience. Stirling, Somerlyn, Lights and their bands bowed as the crowd roared a final time.
"I love you guys," Stirling exclaimed as she bowed to the approving audience. "Thank you so much, Santa Barbara, you guys are awesome," she said as she walked off stage.
The house lights replaced the stage lights that went dark, and a wowed audience made their way down the slope in masses as everyone raved about the performance. The stars seemed to be aligned Saturday evening as the music crystallized in the hearts and ears of those there, feeling more hopeful, more loving and more grateful than when they came.
Stirling and her two very talented co-artists complete their final night of the Music Box Tour at the Greek Theater in Los Angeles Monday night (Aug. 17).
Video Slider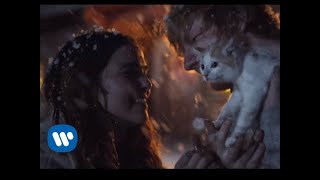 Win Tickets to See Ed Sheeran at the Rose Bowl
Ed Sheeran is back in Los Angeles, and your chance to see him perform is at the Rose Bowl in Pasadena on Saturday, Aug. 18. We are giving away complimentary tickets to the show. For a chance to enter to win, email us at info@lol-la.com with "Ed Sheeran" in the subject line and tell us why you would like to go.