Review: Logan Slashes to the Top of All Superhero Movies
Hugh Jackman stars in Logan, which surpasses all expectations. (Ben Rothstein)
In the days following my viewing of Logan, news hit the Internet that there would be a post-credits scene after the end of the film. By now, such scenes have become de rigueur for superhero movies of all stripes – in particular, the highly serialized installments of the Disney/Marvel Cinematic Universe – but when the credits rolled on Logan, I got straight up and walked for the exit without so much as a passing thought paid to any teasing epilogue. At first glance, this might be seen as a bad thing, but with a moment's reflection, I soon realized that my haste was due to the fact that Logan had so drawn me in with its nuanced drama and real emotional core, that I didn't immediately register it as just another comic book movie. No, this was something different altogether, a true work of cinematic art.
Loosely based upon Mark Millar's eight-issue comic miniseries "Old Man Logan," the picture is set in a dystopian 2029, years after the government has wiped out nearly all mutants. A miserable, alcoholic Logan (Hugh Jackman) is scraping out a living near the Mexican border by working as a limo driver and also helping to support an ancient, addled Professor Xavier (Patrick Stewart) and his albino minder Caliban (Stephen Merchant). But Logan's attempts to escape from society come to an abrupt end when an employee at a top-secret government facility (Elizabeth Rodriguez) arrives with a desperate plea that Logan transport an intense, mute, young girl named Laura (Dafne Keen) to a safe haven up north. Before long, Logan learns of the real reason behind this urgent deal: Laura is, in fact, a lab-created mutant, equipped with adamantium-laced claws of her own. Now, Logan and Xavier must help one of the world's last mutants escape the evil clutches of sadistic mad scientist Zander Rice (Richard E. Grant) and his robot-armed assistant Donald (Boyd Holbrook).
Along the way, Logan bonds with his young charge in a manner that feels honest to the characters and never teeters on the brink of schmaltz. This is aided, of course, by a tremendous performance by Jackman (easily his best in the entire series) and a jaw-droppingly raw, mature turn by Keen as the feral Laura. Kudos are also due to the entire supporting cast. Merchant, Ricky Gervais' one-time man Friday, pulls out his dramatic chops for a fresh change, and the inimitable Stewart portrays a man reaching the end of his life with pronounced dignity in the face of fragility.
Indeed, death is everywhere in Logan. Professor X is wracked with mind-melting seizures that leave a trail of destruction in their wake. Logan himself has been infected by adamantium runoff in his blood, reducing him to a shell of the mutant he once was. Even Laura narrowly escaped a hideous genocide of her peers at the grim testing facility she once called home. Reflecting this darkness are the film's action sequences, which are laced with a level of extreme, gory violence unseen in any (big budget) superhero tentpole to date, even including Deadpool. Limbs are severed, faces ripped off clean, bodies shredded by bullets. This film is not for the faint of heart, but if you've been waiting to see Wolverine unleashed, then this is your first and only shot.
Many films based on comic books in the past decade have laid claim to being able to transcend the limitations of the genre, but very few of them end up living up their lofty goals. Logan, however, surpasses all expectations by paring back the effects-heavy bombast that defined the earlier X-Men installments. Instead, ever-meticulous helmer James Mangold (Walk the Line) wisely chooses to focus on the rich inner life of the iconic Wolverine. Screenwriters Michael Green and Scott Frank keep things fresh with poker-hot dialogue and crackerjack pacing, all encapsulated by a grim and gritty tone that feels closer to a neo-noir western than anything else. The films of the Coen brothers, Sam Peckinpah and Don Siegel came to mind – not names one usually hears in conjunction with a superhero. All that to say, Logan doesn't just aim to provide a means of fun escapism, but instead, like any true work of cinema, sheds light on the frailty of humanity, the complexity of the mind and the endurance of the soul. Oh, and there's also a post-credits sequence.
———————————————————-
Logan
20th Century Fox
In theaters March 3
5 Stars
Films are rated on a scale of 5 stars (must-see), 4 stars (exceptional), 3 stars (solid), 2 stars (average) and 1 star (unworthy).
Video Slider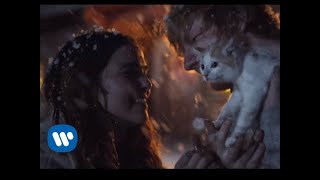 Win Tickets to See Ed Sheeran at the Rose Bowl
Ed Sheeran is back in Los Angeles, and your chance to see him perform is at the Rose Bowl in Pasadena on Saturday, Aug. 18. We are giving away complimentary tickets to the show. For a chance to enter to win, email us at info@lol-la.com with "Ed Sheeran" in the subject line and tell us why you would like to go.