Review: Lucha VaVOOM Goes Sensational with Cinco de Mayan Spectacular
Lucha VaVOOM's Cinco de Mayan Spectacular featured several entertaining moments on Thursday, May 1 at The Mayan in downtown Los Angeles. (Taylor Wong/Living Out Loud LA)
On Thursday night, The Mayan in downtown Los Angeles dressed in red, white and green in honor of Cinco de Mayo, a celebration of Mexican heritage and pride, with Lucha VaVOOM's Cinco de Mayan Spectacular.
There were baby piñatas with colored lights hanging throughout the venue and traditional Mexican music infused with electronic beats that warmed the atmosphere and prepared the audience for a delightful spectacle.
Having witnessed previous Lucha VaVOOM shows, I can honestly say it never ceases to blow my mind. I'm slightly obsessed now, when Lucha VaVOOM is about to happen I prepare for it, since I know soon I will be allowed to drop all inhibitions and let the freak in me come out. Luckily, last night, it seemed all the audience was in sync because many watchers appeared wearing Mexican wrestling masks, risqué outfits and all sorts of colorful costumes. Cinco de Mayan was officially LA's own carnival.
The show began for the audience even before entering the venue with a parade of vintage cars by the Long Beach Crusaders. One-by-one, the cars rolled up to the entrance of The Mayan introducing the stars of the night in full costume and with an energy that almost felt tangible. Did I forget to mention the Mariachi Serenata Ranchera serenaded the crowd while they waited in line to get in? They also provided the music that accompanied the parade.
Once inside, there was just enough time to order a Margarita and rush to the stage to greet Guadalajara's electro cumbia bad asses in their U.S. debut, Los Masters. Complete with cowboy hats, snake skin boots, gold chains and thick mustaches, the group didn't waste time and immediately launched into an electro dance vortex that took the crowd from 0 to 60 almost instantly.
Once the blood began to flow, the "Fiesta" continued with a high-energy performance by Grandeza Mexican Folk Ballet Company, whose impeccable performance highlighted the richness and beauty of Mexican culture. Yes, there's more! A ring appeared in front of the ring and ladies of trapeze mounted it with such grace and skill that it almost made you forget the pair was performing death defying feats while still turning you on.
Now on to the debauched, the mind melting and some stuff you may want to prepare yourself for… How can I put this? At one point in between the flips and hits and skin pounding one of the wrestlers s*** his pants, and the audience clearly witnessed his pseudo-feces taint the shiny white tights. That didn't deter the voracious luchador as he was out for blood. He defiantly faced the crowd, stuck his hand in his pants and proceeded to hurl an imaginary piece of poop at the audience. For a second the crowd gasped in horror, then quickly VaVOOMed themselves back into the party, after another margarita and tequila shot, of course.
The wrestlers including El Jimador, Dirty Sanchez, and Chocolate, among others, doused the audience with adrenaline, but nothing prepared you for the shiny piñata which came to life in the ring and literally began to pound the wind out of all of the wrestlers twice his size. When the real life piñata was finally defeated on the ring, the wrestlers began to dig into its tummy, pull out a bunch of candy and begin to hurl them at the audience. I wasn't on acid or any kind of hallucinogen so I know this really happened. I picked up my jaw only to drop it again with the entrance of Cassandro, the little wrestler with big glitz and glam, who complete with a glitter V neck leotard and a Liberachi style cape that charmed the crowd to its end. It was like watching Mexican superstar Juan Gabriel completely captivate an audience with his grandiose presence.
It was gaudy and sensational, but why wouldn't it be? It was Lucha VaVOOM.
Video Slider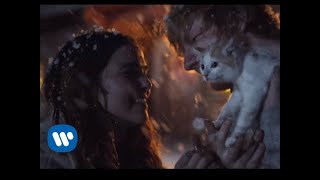 Win Tickets to See Ed Sheeran at the Rose Bowl
Ed Sheeran is back in Los Angeles, and your chance to see him perform is at the Rose Bowl in Pasadena on Saturday, Aug. 18. We are giving away complimentary tickets to the show. For a chance to enter to win, email us at info@lol-la.com with "Ed Sheeran" in the subject line and tell us why you would like to go.