Review: Mark Felt: The Man Who Brought Down the White House Is a Welcome Return to What Liam Neeson Does Best
Liam Neeson in Mark Felt: The Man Who Brought Down the White House (Bob Mahoney/Sony Pictures Classics)
t is impossible to say what reaction Mark Felt: The Man Who Brought Down the White House would have elicited had it been released a year ago, but audiences in 2017 will inevitably draw comparisons between how the Watergate scandal played out and the current investigations of the Trump campaign colluding with Russia. That Mark Felt was at that time, a tall, distinguished longtime public servant with striking similarities to the Robert Mueller of today makes the comparison even harder to deny. This is a film about the downfall of the Nixon administration during the 1970s that is deeply relevant to the events of today and reassuring to anyone who recognizes the madness that this administration has inflicted upon Washington.
Liam Neeson stars as Mark Felt, the Deputy Associate Director of the FBI during the Nixon administration who was for 30 years known only as Deep Throat thanks to the pseudonym given to him by Bob Woodward in All the President's Men. The film tracks Felt's effort to subvert the Nixon administration's plan to quash the Watergate investigation after the death of J. Edgar Hoover allows Nixon to appoint his own crony to head the FBI. It is essentially the flip side of the groundbreaking Alan Pakula film, which has eclipsed even Woodward and Bernstein's original account of the Watergate investigation. Everyone believes that Deep Throat told Woodward to, "Follow the money," but that was an invention of screenwriter William Goldman.  
Ever since Taken established Neeson as an action star, the Irish actor has shifted from the serious dramas that once defined his career. Mark Felt: The Man Who Brought Down the White House is a reassuring return to form. So many of Neeson's best films have been biopics, from portrayals of Oskar Schindler and Michael Collins to Alfred Kinsey, and this movie feels like a welcome return to what Neeson truly does best.
Neeson excels in portrayals of real people not because he has the chameleonic quality of a Meryl Streep or Daniel Day-Lewis, but because he exudes decency and rectitude. Neeson feels like a Gregory Peck or a Henry Fonda, and that quality serves him well for depicting men who perform acts of greatness, even of their essential character is more complicated. Mark Felt: The Man Who Brought Down the White House is not quite at the level of Schindler's List or the vastly under-appreciated Kinsey, but in terms of a vehicle for Neeson and his talents, it is their equal.
Neeson does not shy away from the complications that might drive Felt, who was passed over to head the bureau after Hoover's death and who harbored some resentment over it. Mueller might be the obvious modern counterpart to Felt, but James Comey works just as well, since both were essentially decent public servants a bit too enamored of their own reputations and who suffered for it. Both he and Diane Lane, who plays Felt's alcoholic wife, bring shading to Mark Felt: The Man Who Brought Down the White House that the film itself sometimes does not.
The movie suffers in comparison to All the President's Men, which is admittedly a tough bar to achieve, considering its reputation as one of the best films of the '70s. It feels more on the level of a well-crafted HBO movie by Jay Roach than a great feature film. It fills in the audience's information gaps about a historical event in an entertaining way while allowing talented actors the chance to shine, even in smaller roles. Beyond Neeson and Lane, there are bit parts for talents like Michael C. Hall, Tony Goldwyn, Tom Sizemore and surprisingly good dramatic work by comedian Ike Barinholtz.
As a depiction of the Watergate crisis, Mark Felt: The Man Who Brought Down the White House feels like a companion piece and a footnote to the Pakula film. But it reassures that, in turbulent times, honorable public servants can save our republic. That's the message that people need to hear.
———————————————————-
Mark Felt: The Man Who Brought Down the White House
Sony Pictures Classics
Now in theaters
3 Stars
Films are rated on a scale of 5 stars (must-see), 4 stars (exceptional), 3 stars (solid), 2 stars (average) and 1 star (unworthy).
Video Slider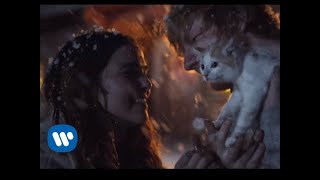 Win Tickets to See Ed Sheeran at the Rose Bowl
Ed Sheeran is back in Los Angeles, and your chance to see him perform is at the Rose Bowl in Pasadena on Saturday, Aug. 18. We are giving away complimentary tickets to the show. For a chance to enter to win, email us at info@lol-la.com with "Ed Sheeran" in the subject line and tell us why you would like to go.