Review: Mary J. Blige Pours It All Out at the Greek Theatre
Mary J. Blige on Saturday, Sept. 2, 2017 at The Greek Theatre in L.A. (Marvin Vasquez / LOL-LA)
Nine-time Grammy Award-winner and multiplatinum R&B singer and songwriter Mary J. Blige brought her much-awaited "Strength of a Woman Tour" to the Greek Theatre on Saturday night, and she poured it all out for her fans.
That's right, the sold-out venue, 5,870 in capacity, witnessed a performance to remember for the ages, as Blige delivered new and classic hits dating back to the early 1990s. The sultry 46-year-old music legend even rendered her amazing hit cover of Rose Royce's "I'm Goin' Down," where she appeared to be super emotional from the start to end. Overall, the audience enjoyed this moment very much, but that's easily an understatement given that everything of and anything regarding Mary J. Blige can be easily appreciated; she's just so darn talented.
This tour comes after Blige's latest release, Strength of a Woman (2017). Her album can best be categorized as one of empowerment, particularly that of women. And throughout the night, Blige made references to empowering women. It's no secret that her breakup from her former husband Martin "Kendu" Isaacs inspired this album.
When Blige performed "No More Drama," the ladies in the seats came out on top; they sang and sang vivacious chants of "no more pain." It was a pleasant site for Blige herself seeing all these people sing with so much feeling!
A 1995 hit off of the movie soundtrack from Waiting to Exhale, "Not Gon' Cry" became an instant favorite for the spectators. It was a mellow and uber-heartfelt few minutes for us, including me. The track connected well with all of us.
And in "My Life," which came after an outfit change midway through the show, we again witnessed a piece of Blige's personal life. This song, as many others, came from a dark time in the artist's life – most likely in the mid-1990s since the tune first appeared on the 1995 album of the same title.
"Oh yeah, this my shit right here," one fan said as soon as the first beat dropped.
With her encore, "Family Affair" (2001, No More Drama), Blige proved why she is so often referred to as the "Queen of Hip-Hop Soul." Over the years, Blige has been credited with influencing the fuse of hip-hop and R&B, and this is something she does extraordinarily well. In "Family Affair," she outdid herself vocally, and the audience seemed to be enthralled by the performer's strong presence on stage.
Above all else, the crowd danced vibrantly and sang ebulliently to the chorus' lyrics "Don't need no hateration, hollaration in this dancery…", and that there also got them jumping and acting free spirited. They felt empowered. Mary J. Blige does that and more; she empowers you while making you happy and giving you the best that she can, musically.
Video Slider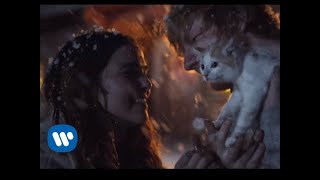 Win Tickets to See Ed Sheeran at the Rose Bowl
Ed Sheeran is back in Los Angeles, and your chance to see him perform is at the Rose Bowl in Pasadena on Saturday, Aug. 18. We are giving away complimentary tickets to the show. For a chance to enter to win, email us at info@lol-la.com with "Ed Sheeran" in the subject line and tell us why you would like to go.