Review: The Menzingers Are Still the Life of the Party
The Menzingers lit up the Glass House Monday night. (Evan Solano/LOL-LA)
Scranton, Pa. is known for two things: the location of the fictitious Dunder-Mifflin Paper Company from NBC's "The Office" and the hometown of punk rock stalwarts the Menzingers. While the band have not reached the dazzling heights of popularity like "The Office," their Monday night show at the Glass House in Pomona drew a loyal and devoted fanbase that could have given Kevin Malone and Scrantonicity a run for their money.
In the span of a decade, the Menzingers have evolved from the snotty, rough-and-tumble Rancid-influenced sound of their 2007 debut album, A Lesson in the Abuse of Information Technology, into prolific punk-tinged storytellers on their fifth full-length album, After the Party, a musical tale of nostalgia, that weaves the narrative of the band's coming of age into adulthood and reminiscing about the old days with the blue-collar punk riffs and sing-a-long hooks that they have refined over the course of their storied career.
Joining the Menzingers were Sideonedummy artists Jeff Rosenstock and newly signed West Virginia rockers Rozwell Kid.
Kicking off the show, Rozwell Kid commanded the stage as soon as the lights went down. The quartet takes the alt-pop quirkiness of Pinkerton-era Weezer and blends it with the melodic chaos of bands like the Pixies and Hüsker Dü. For what looked like four soft-spoken introverts onstage, the band's sound was loud, brash, in your face and still very well-mannered. Singer/guitarist Jordan Hudkins channeled a wry version of Weezer's Rivers Cuomo as he interjected his brand of humor in between songs.
The band stuck to songs from their hook-laden 2014 debut album, Too Shabby, with songs like "Halloween 3.5" and "Weirdo" instantly being seared into the audience's brain (especially the "whoo-hoo-hoos" in the latter song). Although the band has yet to release any new material on Sideonedummy, they played an untitled new song that was as punishing as it was poppy. For being their first time playing Pomona, they are definitely a band worth looking out for in 2017.
Following Rozwell Kid was Long Island native Jeff Rosenstock, whose performance was nothing short of a pure musical mad scientist experiment gone horribly right. Rosenstock, who has fronted numerous bands like the ska outfit the Arrogant Sons of Bitches, Bomb the Music Industry! and Kudrow, and whose discography reads like a punk-rock Bob Dylan, delivered an incendiary sermon from his latest gospel Worry, an album that has garnered both critical and public praise for its seamless blend of social issues like gentrification and police brutality with uniquely exciting songwriting that pushes the boundaries of punk in a way not seen since Andrew W.K.'s debut album in 2001.
Starting his set with the heavily Queen-inspired "We Begged 2 Explode," Rosenstock and his backing band, which surrounded him in a dazzling array of guitars, keyboards, saxophones and every instrument imaginable, offered a dizzying live interpretation of their highly touted album that ranged from all-out traditional punk to stoner beach rock all performed by a funhouse mirror version of the E Street Band. The interplay between Rosenstock, the band and audience was totally kinetic, every song in his nearly 45-minute set bled raw passion that the audience fed off like ravenous vampires in Sunnydale.
For a group that shares a label with mega punk legends like Bad Religion, Bring Me the Horizon and Green Day, if the Menzingers' stage setup was any more minimal the band would have just performed on an empty stage. But the bare-bones aesthetic totally worked for them. No need for an elaborate stage, just rows of Marshall stacks and a simple black banner with the band's name adorned across it was all they needed to make their presence known. Before the first note rang out, it was clear that the band's mission was to roll up their sleeves and let the music do the work.
Ripping into "Tellin' Lies," the opening track of their new album, the band wasted little time in decimating the bar the two opening bands had set for unbridled energy. Guitarist Greg Barnett and Tom May, who both share vocal duties, had the crowd chanting along with them on the line "where are we gonna go now that our 20s are over?" The song is not a mournful goodbye to their youth, but more of a declaration to their newfound role as post-30 punks in a scene that thrives on young blood.
The band then jumped right into their anthemic single "I Don't Wanna Be An Asshole Anymore," from their 2014 album, Rented World. Every word sung by Barnett and May was screamed back tenfold by an impassioned crowd who were moshing and crowdsurfing nonstop since the moment the amps were turned on.
The band's set consisted mostly of songs from their post-2012 era discography, but they gave a few nods to their past with songs like "Nice Things" from 2010's Chamberlain Waits. The stark difference in songwriting from their early work to newer tracks like "Midwestern States" and "After the Party," the title track of the new album, proves just how far the Menzingers have come in a short amount of time. The Menzingers have become amazingly avid storytellers, an often imitated but rarely convincing blend that is part Springsteen, part Social Distortion. Themes of lost love, uncertainty, looking back at a rebellious youth and the pressure to conform all run rampant throughout the band's later work.
The band rounded out their set with their latest single, "Bad Catholics," before exiting the stage for a few minutes to give both themselves and the crowd a chance to catch their breath.
As they made their way back onstage the opening notes of their new song "Lookers" rang out. The song, which is an unabashed Springsteen-worship track, had the entire crowd feverishly jumping and singing along to every "sha-la-la" that the infectious chorus offered up.
They finished their three-song encore with fan favorites "Casey" and "In Remission," but it was pretty clear from the response that their newer "working-man" punk anthems like "Lookers" were highlights of the evening.
It's no surprise that as artists grow older, their sound often changes along with them. A band like the Menzingers, who have made a solid career in a youth-driven sub-genre, embraced the unease and worry that many of us in our generation are facing as we find ourselves on the later side of our 20s with nothing to show for it but the long nights and loud music that made up our formative years.
Yes, sadly at some point it's time to trade the patched-up denim vest and cheap-swill beer for nice flannels and IPAs. Rather than fear that fact, the Menzingers – and by a larger extent – everyone at the Glass House relished in it.
Sure, the hangovers may last a little longer now, but in the punk scene, the party never ends … even if you have work tomorrow.
Video Slider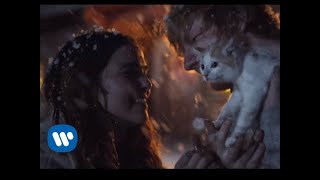 Win Tickets to See Ed Sheeran at the Rose Bowl
Ed Sheeran is back in Los Angeles, and your chance to see him perform is at the Rose Bowl in Pasadena on Saturday, Aug. 18. We are giving away complimentary tickets to the show. For a chance to enter to win, email us at info@lol-la.com with "Ed Sheeran" in the subject line and tell us why you would like to go.