Review: The Metal World Needs More Bands like Superjoint
Phil Anselmo of Superjoint at the Whisky A Go Go Sept. 27 (David Tobin/LOL-LA)
Bands come and go. In the metal world, they seem to last longer for some reason. It's not a bright flash, and then they're gone. It's more of a comet slowly burning out. Even as it cools down, it's still dangerous as hell when it hits ya.
Superjoint was a fiery mess when it started over a decade ago. The spawn of Pantera frontman Phil Anselmo brought a hardcore sound to the metal world in such a fierce way it was known as the only band that could possibly be heavier than Pantera. The problem was they were all in different states of mind back then, and sobriety was a far-off joke.
Fast forward to Wednesday night, Sept. 27.
A smiling Anselmo led his band down the wooden stairs to the Whisky stage. The band walked around and greeted fans before kicking things off. The energy was rising and fun. The attitude of the crowd matched that of the stage.
The show kicked off, and the sound was perfect. The band was in sync from the start, and Anselmo wandered as he does to get things going. Upon unleashing his voice, the crowd jumped into action, and the pit was in play. Swirling bodies slammed into each other as the songs bled, one into the other, through the night.
Anselmo took time to address the crowd, share his thoughts on life and everything else we battle. The message is still the same: Be yourself, do good work, have integrity and don't worry about what everyone else thinks … and don't push your views on others.
The crowd was thrilled to see a healthy frontman who is rated as the gold standard for frontmen in metal bands and most beyond that as well. He's had his ups and downs and finally come out healthy and more powerful than ever. Sure, he may not run around the stage anymore, but he doesn't need to. The band comes out sounding tight, the music moves you and when the vocals are on point, it's one of the best sounding metal shows you'll see.
With the metal world in steep decline, it's always nice to see an old friend get up and throw down. I just hope all the other bands out there are taking notes. We need more of this.
Video Slider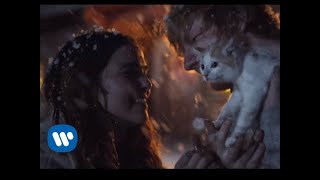 Win Tickets to See Ed Sheeran at the Rose Bowl
Ed Sheeran is back in Los Angeles, and your chance to see him perform is at the Rose Bowl in Pasadena on Saturday, Aug. 18. We are giving away complimentary tickets to the show. For a chance to enter to win, email us at info@lol-la.com with "Ed Sheeran" in the subject line and tell us why you would like to go.