Review: Metallica at the Rose Bowl – The Boys Are Back in Town
Kirk Hammett and James Hetfield of Metallica shredded for the Rose Bowl last night. (Evan Solano/LOL-LA)
It's a story that has been forever seared into metal lore – the year was 1981 and a small Danish-born drummer living in Southern California named Lars, placed an ad in The Recycler looking to start a band. A response would eventually come from a long haired, Downey-born skater punk guitarist named James and together in a small garage in East L.A. one of the biggest metal bands of all time would be born.
The rest, as they say, is history.
Thirty-six years later and only 40 minutes from the small garage where Metallica was born, history caught up with Lars,James and a sold out crowd at the Rose Bowl, in a deafening flurry of metal masterpieces from one of American music's most revered bands.
Although Metallica are a band that eventually became synonymous with the burgeoning Northern California thrash metal scene in the 80's that gave rise to bands like Testament and Exodus, drummer Lars Ulrich and guitarist James Hetfield's roots are as Southern Californian as the UCLA Bruin football team that plays every Saturday in the legendary stadium nestled in the hills of Pasadena.
From their early days playing small clubs and bars in Norwalk to eventually touring the world on the exhausting 224-date Wherever I May Roam tour from '91-'92, Metallica have come through Los Angeles too many times for most fans to keep up with anymore. Name a club or venue in the greater Los Angeles area and odds are it has been decimated by the Bay area thrashers.
But last night's performance felt different, perhaps because the choice of venue felt a little too close to home for Hetfield and Ulrich.
The Rose Bowl has held it's fair share of gigantic mainstream touring acts such as U2 and Beyoncé as well as being the home for Bruins sports fans, but walking through the sea of cars and fans all in every variety of Metallica shirt ever created, tailgating and blasting every album from Kill 'Em All to the newly released Hardwired…To Self Destruct, it was obvious that tonight didn't belong to the jocks or the popular crowd. Tonight was for the true metal fans.
Joining Metallica on the "World Wired Tour" were Orange County metalcore giants Avenged Sevenfold and Parisian metal heavyweights Gojira. Though both bands tried as best they could to hold their own, just from the amount of people camping out front who suddenly made a rush for the gates as the sun began to set, it was obvious who everyone was here to see.
During the lengthy set up preparing the stage for the San Francisco titans, a very out of place DJ performance, where the DJ would spin metal tracks mixed with house beats tried his best to keep the crowd hyped up, though more fans sounded confused and annoyed rather than entertained.
There are two songs that every true Metallica fans clamors for in anticipation – the first was AC/DC's "It's A Long Way To The Top (If You Wanna Rock 'n' Roll)," nearly everyone close the stage and in the Snake Pit – the area in the middle of Metallica's enormous stage set-up reserved exclusively for fans who paid top dollar – were chanting along with the hard rock anthem that has been a unofficial mantra for Metallica's unwavering musical career that has been rocked by everything from inner band turmoil, alcohol abuse and even death.
Soon after, a massive screen above the stage began playing scenes from Sergio Leone's classic 1966 western film The Good, The Bad and the Ugly as the second song, Ennio Morricone's triumphant score "The Ecstasy Of Gold" began ringing through the jam-packed arena as nearly everyone in the audience sang along to the instrumental theme in fevered anticipation as the song crescendoed before abruptly ending, giving everyone  one last moment of silence. This was the moment we had been waiting for.
The marching intro to their new album titular song "Hardwired" began creeping through the P.A. before the band appeared on stage in a burst of light, crushing guitars and towering flames. The band ripped through the first two songs from last year's Hardwired…To Self Destruct," a record that sonically falls between the  hard-hitting youthful passion of their early albums like 1988's …And Justice For All  and the refined songwriting found on their later work like 1991's Metallica and their mid-90's Load and ReLoad albums.
Perhaps it was the fact that only a few miles down the road at the Pasadena Convention Center, the city was hosting the annual Politicon Convention, a sort of Comic-Con for all things politics, but after "Atlas…Rise!" Hetfield welcomed the crowd in the way the often blunt and foul-mouthed frontman only could.
"Metallica doesn't give a shit!" the singer exclaimed.
"We don't care about the color of your skin, who you voted for or what god you bow down to," he said to wave of cheers before the band launched into "For Whom The Bell Tolls" from their 1984 sophomore album Ride The Lightning.  "We're here to celebrate life with live music," Hetfield said.
While many a music critic and metal fan will argue the band's legacy over the years, the simple fact remains that although there are countless bands who have helped shape what heavy metal has become, Metallica was the band that truly defined it in the modern age.
Whether it is the anthemic headbanging riffs of "For Whom The Bell Tolls" or the beautifully heavy songwriting of "The Unforgiven" from their 1991 self-titled album, Metallica is a band that has pushed the boundaries of what heavy metal was and at times, did so in the face of fan backlash and accusations of "selling out."
Any person who can easily dismiss the amazing legacy they have secured, honestly has no right to call themselves a fan of music. Yes, it's obvious that nearly 40 years into their career, Metallica will never be the young, angry snot-nosed punks who wrote complex, breakneck and genre-defying albums like Master Of Puppets or …And Justice For All, but quite frankly they don't need to anymore. At this point, their songs are no longer just music, they are the hallmarks and pillars of what created American heavy metal so many decades ago. Every note and riff in their storied catalog are the words of a heavy metal Declaration of Independence to a genre that was long dominated by British rule in the late 70's.
Although they are touring behind a recently released album, the band made a point to keep the newer cuts to five songs during their two hour set. "Halo Of Fire" obviously doesn't have the rousing impact of a song like "Wherever I May Roam" that they played prior to the newer track, but the band  at least tried to make the newer songs feel like a part of their body of work.
The one thing that felt incredible throughout the concert was how intimate the band could make a 92,500 cap stadium feel, even for those (like myself) who have never seen the band live prior to last night. Seeing swarms of fans moshing and circle pitting to song like "Wherever I May Roam," and "Sad But True" gave a nostalgic feeling for those of us who grew up watching the Live Shit: Binge & Purge" home videos as kids and wishing we could have been old enough to slam dance to those songs.
The band ripped through "Moth Into Flame" which despite being a newer song, still has some of the gnarliest riffs Hetfield, Ulrich, guitarist Kirk Hammett and bassist Rob Trujillo have written together since Trujillo, the newest member, joined back in 2003.
Trujillo, another SoCal native, took the stage playing a few bass solos and paying tribute to late-bassist Cliff Burton, who died in 1986 by playing the Burton-penned bass solo "Anesthesia (Pulling Teeth)" from the band's 1983 debut album Kill 'Em All.
The other three members soon emerged on stage, Hetfield now in a cut off black denim vest adorned in patches that influenced him earlier on in their career, as he and guys tore through some earlier-era songs "Motorbreath," "One" (which also including an incredible laser light and pyro show.) and "Master Of Puppets" as if they'd been frozen in ice since the 80's. This was the band reliving the garage days, as best they could in front of a sold out crowd of rabid fans cheering them on.
Hetfield, long-known for having one of the most rapid-fire guitar down-stroke picking style, showed any ageist music snobs that his right hand was still one of the deadliest in modern metal.
Now in his early 50's, Hetfield's short hair may have signs of grey and his once menacing and wildman persona has tempered with time and sobriety, but during "Master Of Puppets" his wrist was firing off like a pissed off 23 year old with piston-like precision.
Hetfield still has some of the hardest rhythm riffs that work well against Hammett's dazzling leads. While you are transfixed on Hammett's technical skill, Hetfield's sledge hammer guitar work bludgeons you from behind, especially on tracks like "Sad But True," where his slow, churning riffs lived up to his promise as he bellowed "You want heavy? Metallica gives you heavy, baby!"
The band rounded out their set with fan favorites "Fade To Black," and "Seek And Destroy" and even showed some love to Pasadena hometown heroes Van Halen, with a humorous cover of "Runnin' With The Devil," before briefly exiting the stage.
The band's encore was a three song blitzkrieg of whiplash riffage from "Battery," followed by perhaps their biggest (and softest) hit single "Nothing Else Matters." The pairing of the two songs couldn't have been a more fitting example of just how the diverse the band's sound has become over the span of their career.
They ended their set with "Enter Sandman," with the stomping riff that has come to define Metallica's latter day sound as a last call to serve the hurt, the crowd was all too willing to dish it out with at least several huge mosh pits breaking out across the stadium field.
There are so few bands that truly surpass the status of musicians to become a bridge between generations of fans. From the older ones who have seen them since the 80's to the young kids joining mom and dad for their first show, everyone left that stadium feeling excited and inspired.
Metallica could stop recording new music tomorrow and they would still sell out every area from now until the day they hang up their instruments. In an age where music streaming and downloads have gutted an entire industry, their self-titled "Black Album" remains one of the highest selling records of all time, beating The Beatles' Abbey Road and Nirvana's Nevermind, and is still selling to this day.
Behind the massive stage, the legions of fans, the insane pyrotechnic show and the millions of records sold, Metallica's heart has always been Lars and James – two kids from Southern California who paid their dues in the neighborhood clubs and were able to change the world.  That may not seem all that "metal," but it was definitely pretty heavy.
After nearly a lifetime of performing on every continent on Earth (yes, even Antarctica), Metallica may never get back the youthful glow of the garage days they once had only 18 miles  and a lifetime ago from Rose Bowl, but last night – perhaps for the first time in 36 years – Lars and James finally came home.
Video Slider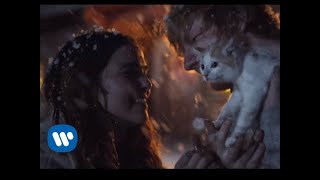 Win Tickets to See Ed Sheeran at the Rose Bowl
Ed Sheeran is back in Los Angeles, and your chance to see him perform is at the Rose Bowl in Pasadena on Saturday, Aug. 18. We are giving away complimentary tickets to the show. For a chance to enter to win, email us at info@lol-la.com with "Ed Sheeran" in the subject line and tell us why you would like to go.