Review: A Monument to Annette Bening, Film Stars Don't Die in Liverpool
Annette Being and Jamie Bell in Film Stars Don't Die in Liverpool (Susie Allnutt/Sony Pictures Classics)
Nearly 30 years ago, Annette Bening earned her first Oscar nomination for the Stephen Frears con-man classic The Grifters, playing Myra Langtry, the dangerous but playful seductress who fell prey to the intra-family schemes of Anjelica Huston. Many reviews remarked on just how vividly Bening channeled the spirit of classic film noir stars in general and Gloria Grahame in particular, so with Film Stars Don't Die in Liverpool, Bening at last gets to play the Oscar-winning actress during the last part of her life. Fortunately, unless she and Warren Beatty know something that the general public does not, Bening should have years if not decades left in her career, but there is a certain satisfaction in seeing her come full circle.
Based on the memoir by Peter Turner and directed by Paul McGuigan (Lucky Number Slevin and a host of television dramas), Film Stars Don't Die in Liverpool frames the end of Grahame's life from the point of Turner (played here by Jamie Bell, who even in his 30s will always be known as Billy Elliott). When Peter is working as a struggling actor in England during the late '70s, he meets Grahame, who is there to perform on the stage, long after her film career fell apart. Despite their vast age difference, the two begin a romance, and she brings him to New York, where she hides her terminal cancer diagnosis from him while introducing him to a life of glamour he had never seen.
To the surprise of no one, this is a role that virtually no one but Bening could play so well, considering it fits so squarely into her best roles. Bening might be the most theatrical of all her contemporaries, so she excels in roles as actresses, particularly those with a diva streak (not that there are many stories about unassuming actresses). But at the same time, Bening brings a warmth and vulnerability to even the most over-the-top figures, so she never descends into the campiness that is a pitfall for so many actresses as they mature.
Film Stars Don't Die in Liverpool may be a monument to Annette Bening, but the film is decent enough to populate it with worthy acolytes. The role of Peter Turner may be a thin one, considering he is more witness than participant in his story, but Bell brings a rough charisma to the role, while his former dance teacher Julie Walters is suitably warm as Peter's mother, and Vanessa Redgrave shows up for a welcome cameo as Grahame's mother.
There is a slightness to Film Stars in Liverpool, however, that prevents it from rising from a solid charmer to something more incisive. The life of Gloria Grahame is a fascinating one that is far darker than the one that Turner can understandably tell. She did, after all, leave Rebel Without a Cause director Nicholas Ray for his own son decades earlier, an event to which this movie can only allude. This movie feels like an epilogue to a story rather than a real story itself, and while it is warm, endearing and well-performed, there is not much depth or substance, either, for that might conflict with Turner's fond memories of Grahame or possibly Turner's conception of himself. The film also hints at a more sordid side to Turner, but he still feels as threatening as a school boy.
Film Stars in Liverpool is decent as a film, but best as a vehicle for Annette Bening. Gloria Grahame is the role that Bening was always meant to play, even if this is not quite how or where she should have done it.
———————————————————-
Film Stars Don't Die in Liverpool
Sony Pictures Classics
Now in select theaters
3 Stars
Films are rated on a scale of 5 stars (must-see), 4 stars (exceptional), 3 stars (solid), 2 stars (average) and 1 star (unworthy).
Video Slider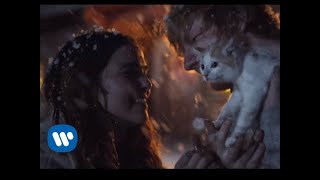 Win Tickets to See Ed Sheeran at the Rose Bowl
Ed Sheeran is back in Los Angeles, and your chance to see him perform is at the Rose Bowl in Pasadena on Saturday, Aug. 18. We are giving away complimentary tickets to the show. For a chance to enter to win, email us at info@lol-la.com with "Ed Sheeran" in the subject line and tell us why you would like to go.