Review: The Mummy Shows Just How Hard Tom Cruise Works for Audiences
Tom Cruise as Nick Morton in The Mummy
Every time Tom Cruise releases his latest action movie, it is a remarkable event no matter its quality. Cruise has maintained his status as Hollywood's hardest-working action star for a remarkable 31 years, with no end in sight.
Three decades after Harrison Ford became an action star, he was playing grizzled veterans who pair up with younger, cocky young men. Cruise, even 31 years after Top Gun (released before Zac Efron and Liam Hemsworth were born, to put it in perspective), can still play the cocky hero who credibly runs, jumps and fights like he always did. At nearly age 55, Cruise might be slightly more weathered than when he did the first Mission: Impossible, but the vigor he projects would astound at any age.
Cruise's latest film, The Mummy, is not quite the straight action movie in which he normally stars, but nor is it the straight horror film that the original Boris Karloff film of the 1930s was. This version, directed by Alex Kurtzman (best known as a television writer and producer) probably relies more on the standard set by the Brendan Fraser-Rachel Weisz series that began in the late '90s, which approached the story as an Indiana Jones-style action adventure.
This being a different era of films, Cruise's version of The Mummy does differ in two distinct ways. The movie is a bit darker than the Fraser films, both figuratively and literally, and because no tentpole movie can ever exist as distinct narrative, it appears to be a setup not just for a sequel, but for an entire franchise that includes not just the Mummy, but the entire cast of classic Universal horror stars. The Invisible Man is in pre-production starring Johnny Depp, the last person who needs to join another franchise, and The Mummy includes a small part for Russell Crowe as Dr. Jekyll, which suggests a plan to have him get his standalone film.
The Mummy has the same rough plot that one would expect: Western explorers find an Egyptian tomb, open it, and the Mummy is released. The variations here are few, and some have been seen before. The Mummy is female (Sofia Boutella) just like in The Mummy Returns, and she is found in modern-day Iraq instead of Egypt, thus adding to the danger of finding the tomb. The one major change to the series is that it brings the Mummy to England instead of having the characters skulk around the pyramids. Although, the characters nonetheless find themselves in catacombs underneath London, which makes it mostly a lateral move.
As always with a Tom Cruise film, the action sequences are often first-rate and require the star to expend as much energy as an athlete half Cruise's age. Whatever the merits of a Cruise action movie, they always show him putting a monumental effort on the screen, as if to say, "This is what I have to do to earn $20 million per picture." And while the story descends into half-baked interpretations of Egyptian mythology, as every Mummy picture does, it does have small pleasures, like Jake Johnson deflating the seriousness as Cruise's cursed sidekick. One of the major problems of the film, aside from one of Cruise's most generic love interests, is that it relies too heavily on its heroes fighting hordes of the undead. There are only so many anonymous reanimated corpses that Cruise can fight before it gets monotonous.
The Mummy may not offer many surprises nor does it solve some of the inherent problems in any Mummy picture, but more than that it is a Tom Cruise movie, and his persona inevitably dominates any film in which he stars. This is not a great Cruise movie, but it's a great display of just how hard Cruise works for his audience.
———————————————————-
The Mummy
Universal Pictures
In theaters June 9
3 Stars
Films are rated on a scale of 5 stars (must-see), 4 stars (exceptional), 3 stars (solid), 2 stars (average) and 1 star (unworthy).
Video Slider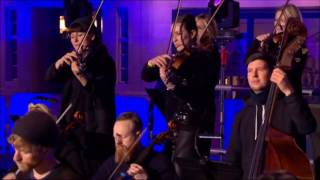 Win Tickets to See Pete Tong at Hollywood Bowl
Pete Tong is back in Los Angeles, and your chance to see him perform is at Hollywood Bowl on Thursday, Nov. 9. We are giving away complimentary tickets to the show. For a chance to enter to win, email us at info@lol-la.com with "Pete Tong" in the subject line and tell us why you would like to go.