Review: "Murder For Two" Is a Musical Farce on Steroids
See Jeff Blumenkrantz and Brett Ryback in "Murder for Two" at Geffen Playhouse through Aug. 2. (Joan Marcus)
Rattling off the hinges with manic energy, madcap murder-mystery musical "Murder For Two" makes for a strikingly entertaining counterpoint to the grim, dour fare that makes up the majority of contemporary theater while simultaneously acting as a lucid showcase for the incredible talents of its two lead players. Written by Joe Kinosian and Kellen Blair, "Murder" originally premiered to smashing notes in Chicago circa 2011, then hit New York for a fine off-Broadway run during the 2013-14 season before its ultimate exportation out West, dropping on the grand stage of the beautiful Geffen Playhouse May 26.
At once a loving parody of Agatha Christie's drawing-room whodunits and a meta companion piece to Charles Ludlam's enduringly over-the-top farce "The Mystery of Irma Vep," "Murder For Two" bets the house on stars Jeff Blumenkrantz and Brett Ryback, who, in addition to being the only cast members of a play featuring upwards of 10 characters, also perform all of the piano accompaniment for the musical numbers. If you're confused by the logistics, here's the how and why: The play follows rookie cop Officer Marcus (Ryback) as he finds his chance to impress and make detective when he's assigned to the spooky New England manor of famed author Arthur Whitney after the scribe is shot dead by a mysterious assailant at what was to be his surprise birthday party. Though he's ostensibly just there to look after things until the real detective gets there, Marcus decides to go ahead with an investigation, thus finding himself entangled in a crooked web of suspects, including Whitney's wacky Southern wife, his ditzy niece, his folksy therapist, a grumpy old couple, three streetwise choir boys and a seductive ballerina.
Now, if that cast-to-character ratio still isn't adding up, here's the real hook: Blumenkrantz plays all of those suspects, bouncing around the stage like a lit Roman candle, switching accents, mannerisms and props at an absolutely dizzying pace in a comedic performance for the ages. Meanwhile, Ryback handles the majority share of the music, leaping on and off the Steinway, frantically pounding the keys while staying on-tempo, on-key and in character.
Insofar as gimmicks go, this switcheroo routine is quite an impressive one, harkening back to the flop-sweat physicality of the great vaudevillian players and early screwball comedy maestros of the 1930s. When I first heard the concept of "Murder," I came in expecting a laconic postmodern deconstruction of the old mystery "housers," and as such was pleasantly surprised by the nimble, earnest energy the leading duo afforded to even the corniest, most groan-inducing banana-peel gags. There's plenty of gab to be found here, but mercifully little in the way of glib.
Though "Murder"'s story – if one can call it that – may be a practically incomprehensible mess, muddled beyond the point of no return through the inclusion of far too many characters, the comedy here is successfully hammered home through brute force via the oddball pairing of Ryback's adept hands and virtuoso vocal register with Blumenkrantz's uproarious knack for caricature. Some of the songs and bits work better than others (Blumenkrantz's performance as a trio of gruff, Brooklyn-ese tykes slays; his shrieking turn as the Blanche Dubois-esque widow only irritates), but as a whole, the raw showmanship on display made me more than willing to forgive the imperfections in Kinosian and Blair's somewhat slapdash playbook.
That being said, some criticism must be leveled at director Scott Schwartz – not for any wrongdoing, but more so for his lack of seemingly any doing at all. Indeed, the staging is perfunctory, the lighting flat and the performances completely and utterly unshaped, allowing for far more hammy stage-grubbing than a more seasoned helmer would allow.
All in all, "Murder For Two" is well worth seeing not, necessarily, as a great work of art, but as a reminder that somewhere in the increasingly static and mopey world of theater acting, there exist performers who are still willing to truly work for their supper. Though the play is fatty, busy and at times cloyingly overindulgent, it still packs an innate "wow" factor missing from so much of today's self-satisfied smug-fest. For an example of such shock and awe, one need look further than Ryback and Blumenkrantz's jaw-dropping curtain call, in which they perform a wild dueling piano routine that would make Jimmy Durante nervously tug at his collar.
"Murder for Two" is playing now through Aug. 2 at Geffen Playhouse. For more information, visit geffenplayhouse.com.
Video Slider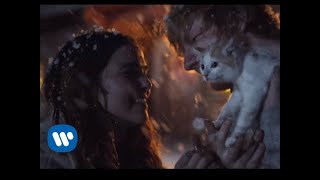 Win Tickets to See Ed Sheeran at the Rose Bowl
Ed Sheeran is back in Los Angeles, and your chance to see him perform is at the Rose Bowl in Pasadena on Saturday, Aug. 18. We are giving away complimentary tickets to the show. For a chance to enter to win, email us at info@lol-la.com with "Ed Sheeran" in the subject line and tell us why you would like to go.