Review: "nat&EM" Shares Imagined Love Story Between Nat King Cole, Emily Dickinson
Emma Green plays Emily Dickinson in "nat&EM." (Amanda Jane Shank)
In the midst of the downtown sulk on Sunday evening, the Company of Angels at The Alexandria Hotel presented "nat&EM."
Located on the third floor of the Alexandria Hotel, this theater brought to life an intellectually thrilling work that fused both jazz artist Nat King Cole and poet Emily Dickinson from time periods far before most of our hazy memory stretch and formed a mixed pop culture child on the forefront of social change.
Deena Selenow directs Julie Taiwo Oni's "nat&EM."
The theater was cozy and dark, perfect for theatricals if you ask me. Aesthetically, the air was shabby chic with red velvet curtains draping our entrance from a waiting area in a hall to an array of chairs directly in front of the stage. Talk about up close and personal, the actors could have tripped and landed on your lap in here, but it added to the personable character of the play. Usually, I linger within the look and feel of the surrounding inside but this event calls for more attention on the filling.
Christopher Hampton plays Cole, Emma Green portrays Dickinson and we see Melissa Donaher as the scribe. Hampton embodied the soul and commanding presence of Cole in his fluent body language and his lulling voice. Green fulfilled the eeriness and awkward persona that was expressed of Dickinson through her poems. Both actors only spoke using words from their character's works. Cole only spoke lyrics from his song "Mona Lisa" and Dickinson only spoke using lines from her poem "Narrow Fellow in The Grass."
The two characters were thrust in a room and left to communicate using only their own created lyricism in order to understand and fall in love with each other. On the out side of the scene is the scribe translating what the characters meant when they blurted out random lines from their works to each other. The scribe represented the pop culture of modern day and served as a comedic relief in the beginning.
The plot is one of romance amongst two unusual matches; we see them struggle to understand each other but eventually fall in love. They are guided to fall for each other and prompted to speak more in order to understand each other but in the end, they understand the simplicity within themselves and accept the romance even though they don't fully understand. This same romantic essence is threaded throughout the meaning of the rendition.
Dickinson, whose works date back to the 1800s, and Cole, whose career took place in the 1900s, are two iconic representations of misunderstood creative souls in there times. They also serve as an elusive union of cultures that many people still struggle with today. Oni not only addresses a very taboo subject through her message, she also reaches out to the public's ears in hopes of opening them up to the beauty in both the cultural language of the eras and the extraction of simplicity in love that we often overlook as we search for logic.
The scribe represents the fruits of the integration between "nat&EM," both racially and culturally. She stands for the mixing of the two eras into the present day social culture in order to help us better understand mixed cultures at face value. The romance that is displayed by botht in this piece is exquisitely challenging to modern day exclusion of the "norm," whatever that might be for individuals.
This courageous production brings warmth to cold judgment, resulting in malleable works of art being unleashed within the minds of the audience as the scenes unravel.
"nat&EM" runs Fridays and Saturdays at 8 p.m. and Sundays at 7 p.m. until November 24.
Video Slider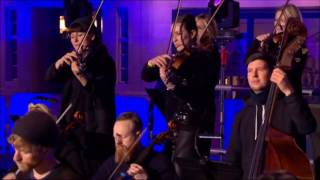 Win Tickets to See Pete Tong at Hollywood Bowl
Pete Tong is back in Los Angeles, and your chance to see him perform is at Hollywood Bowl on Thursday, Nov. 9. We are giving away complimentary tickets to the show. For a chance to enter to win, email us at info@lol-la.com with "Pete Tong" in the subject line and tell us why you would like to go.