Review: Not So Happy Ending for Fifty Shades Trilogy
Dakota Johnson and Jamie Dornan as Anastasia Steele and Christian Grey, respectively, in Fifty Shades Freed. (Universal Pictures)
This weekend the Fifty Shades trilogy comes to a climax as the final installment in the highly successful film franchise, based on the popular books by the same name written by E.L. James, hits theaters.
As has been customary with the previous two films, Fifty Shades Freed is released just in time for Valentine's Day and is expected to be a box office success. The first two installment have garnered just under $1-billion dollars.
The film picks up as Anastasia (Dakota James) and Christian (Jamie Dorian) are exchanging vows during their wedding and then fly off on a lavish honeymoon in Europe, worthy of being featured in "Lifestyles of the Rich and Famous", only to have it cut short and return home due to a break-in at Grey Enterprises. Turns out Jack Hyde (Eric Johnson), Anastasia's old boss, is behind it. He's feels wronged by the Grey's and wants revenge.
The film stays true to the source material with plenty of kinky sex to satisfy even the most demanding hard-core fan of the books thanks to a very faithful screenplay by James' husband, the screenwriter Niall Leonard. Meanwhile director James Foley does an excellent job of staying within the confines of an R rating while packing Freed with plenty of steamy lovemaking in between jet setting, newlywed arguments and foiling a kidnapping plot.
This is also the lightest load of the trilogy, insofar as runtime is concerned, clocking in at 105 minutes. Fans will surely appreciate the quick, yet neat, bow this offering puts on Anastasia and Christian's story.
—————————————————————–
Fifty Shades Freed
Universal Pictures
Now in theaters
3 Stars
Films are rated on a scale of 5 stars (must-see), 4 stars (exceptional), 3 stars (solid), 2 stars (average) and 1 star (unworthy).
Video Slider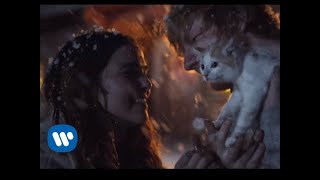 Win Tickets to See Ed Sheeran at the Rose Bowl
Ed Sheeran is back in Los Angeles, and your chance to see him perform is at the Rose Bowl in Pasadena on Saturday, Aug. 18. We are giving away complimentary tickets to the show. For a chance to enter to win, email us at info@lol-la.com with "Ed Sheeran" in the subject line and tell us why you would like to go.