Review: One of Salma Hayek's Best Performances in Beatriz at Dinner
Salma Hayek and Jay Duplass in Beatriz at Dinner (Lacey Terrell)
A Mexican immigrant to the United States confronts a bombastic, loathsome billionaire real estate mogul in Beatriz at Dinner, and audiences will undoubtedly make a connection between the character played by John Lithgow and the current occupant of the White House. The film by writer Mike White and director Miguel Arteta obviously enjoys making its parallels to Donald Trump, but it goes beyond that. This is not a simplistic parable about just how bad Trump is (Lithgow's character in the film, unlike Trump, actually has at least one or two redeeming qualities, after all.), because White revels in making audiences squirm. Beatriz at Dinner is a deeply uncomfortable film that offers no pat catharsis, and is better for it.
Salma Hayek plays Beatriz, a massage therapist and practitioner of alternative medicine who visits Cathy, a wealthy client (Connie Britton) whose daughter Beatriz helped treat when the daughter had cancer as a teenager. When Beatriz's car breaks down, Cathy invites Beatriz to stay for dinner, where her husband is entertaining work colleagues that include Doug Strutt (Lithgow), a hotel developer known for destroying the lands around the areas he develops. Beatriz and Doug, much to the chagrin of Cathy and her husband, begin a conflict based on their polar opposite values: She is a healer, he is a destroyer.
Beatriz at Dinner works at a level beyond the simple conflict between Beatriz and Doug, one obviously good and the other obviously evil, precisely because Beatriz may be far more noble than Doug, but she is still recognizably human. She is awkward and eccentric (Her pets include a Jack Russell terrier and a goat, so it is safe to say her neighbors despise her.). She hugs too easily, she drinks a bit too much, and she feels out of place at this wealthy Orange County dinner for reasons beyond the obvious.
Hayek never tries to elicit sympathy for Beatriz because the story itself lends her that so easily. It might be easy to applaud the 50-year-old Hayek for appearing so plain and unglamorous (expect many critics to call Hayek brave for doing so), but it is Hayek's refusal to simplify Beatriz that makes this one of her best performances, not just the ostentatious lack of vanity.
Lithgow is no stranger to big performances, whether playing the alien of "3rd Rock from the Sun" or depicting Winston Churchill during his declining years, but what is interesting about his performance is that he, too, underplays. Doug Strutt may be a monster, but he is one at human scale, and still capable of humor and engaging in social niceties. There's a certain courtliness to the performance, despite this glaring flaws in his character.
Britton probably has the most difficult character to play. Her Cathy has obvious affection for Beatriz, but her privilege blinds her to the true nature of their actual relationship. Britton finds a way to navigate a character who is essentially decent but not quite as noble as she might believe herself to be.
Beatriz at Dinner is structured like a comedy of manners, but it often has the feel of a horror film, as the audience watches each of the characters make entirely avoidable poor decisions that compound on one another until disaster is inevitable. If viewers are uncomfortable, it is precisely because that is what White (who created the extremely awkward protagonists of Chuck & Buck and "Enlightened," along his more mainstream films like School of Rock) does best. The film creates the sense that there is no possible satisfactory solution, nor should there be. And that, not the presence of a blustery billionaire, makes it the perfect metaphor for the Donald Trump era.
———————————————————-
Beatriz at Dinner
Roadside Attractions
In theaters June 9
4 Stars
Films are rated on a scale of 5 stars (must-see), 4 stars (exceptional), 3 stars (solid), 2 stars (average) and 1 star (unworthy).
Video Slider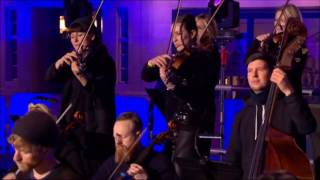 Win Tickets to See Pete Tong at Hollywood Bowl
Pete Tong is back in Los Angeles, and your chance to see him perform is at Hollywood Bowl on Thursday, Nov. 9. We are giving away complimentary tickets to the show. For a chance to enter to win, email us at info@lol-la.com with "Pete Tong" in the subject line and tell us why you would like to go.