Review: Opera Superstar Angela Gheorghiu Returns to the Broad Stage with Friends
Soprano Angela Gheorghiu gave a stellar performance at the Broad Stage.
When I reviewed opera superstar soprano Angela Gheorghiu at the Broad Stage in Santa Monica last year, she was accompanied by the excellent pianist Jeff Cohen. The program at that time was made up of a total of 24 pieces, most of them short and focused mainly on the Italian repertoire.
On her triumphant return to this same venue on Saturday, Oct. 8, Gheorghiu brought along several Romanian guests including tenor Călin Brătescu and Maestro Tiberiu Soare conducting a stellar orchestra, made up of some of Los Angeles' finest musicians. This time the pieces were longer and the amount was about half of the previous year, with most of them again by Italian composers.
The legendary Gheorghiu, who was born in Adjud, Romania, started her singing career at an early age and debuted as Mimi in La Boheme"in 1990 with the Romanian National Opera. Since then, she has graced all of the great opera houses throughout the world and sung some of opera's most important female roles.
Maestro Soare began the evening with a gorgeous and detailed version of "Valse de Faust," a waltz by French composer Charles-François Gounod that featured the fantastic string section with so much energy that it made me want to get up and dance. Entering the stage in a shimmering, elegant black dress and her trademark long black hair to match, Gheorghiu began with a gorgeous rendition of "Del sultano Amuratte.. Ecco: respiro" from opera Adriana Lecouvreur which is by Italian composer Francesco Cilea. A slow, passionate piece, it featured some out-of-this-world pianissimo singing by Gheorghiu whose voice felt as though she was whispering the notes while sitting next to you.
Joined later onstage by Brătescu, the duo delighted the capacity audience with the aria "Ma, Dunque, è vero? Dite", which was then followed by his interpretation of "La dolcissima effigie", both from Adriana Lecouvreur.
A fiery version of the prelude to the opera Carmen by French composer Georges Bizet came at the capable hands of Maestro Soare and the orchestra. The string section was delicate and lyrical, while the brass was powerful – the overall piece having a very Spanish flavor. Brătescu followed this with the aria "La fleur que tu m'aviais jetée", also from Carmen in his rich, textured voice from the lower tenor range.
To close the first part of the program, Gheorghiu gave a masterful rendition of "Sola perduta abbandonata" from the opera Manon Lescaut by Italian composer Giacomo Puccini as her voice soared over the orchestra with high, pure notes while showing the acting skills that have made her an opera legend.
Opening the second part of the evening was a delightful version by the orchestra of "Farandole" by Bizet, which had some wonderful work by the flutes while a light, full sound came out from the rest of the musicians.
Returning to the stage in an exquisite Art Nouveau printed gown, looking like a delicate butterfly, our diva gifted the audience with an incredible version of "Ave Maria" from the opera Otello by Giuseppe Verdi. This was followed by Brătescu's rendition of the aria "E lucevan le stelle" before Gheorghiu joined him for "Mario! Mario! Mario!" (both pieces from opera Tosca by Puccini).
If there is any current opera singer that inhabits the tempestuous, fiery character of Tosca, it is soprano Gherorghiu. Her vocal range, purity of voice and acting projection in this role cannot be matched. She is Tosca!
As a nod to the Romanian-Americans attending the concert, a lively version of "Rapsodia Romana" was executed by the orchestra, and it was full of color, vibrancy and that touch of gypsy life. This was followed by tenor Brătescu doing his best performance of the evening, singing "Addio fiorito asil" from opera Madame Butterfly by Puccini.
To end the evening on a high note (pun intended), the beautiful Gheorghiu, sporting a vibrant red dress with delicate patterns similar to the Mexican art known as papel picado (cut paper) wowed the audience with "Ebben? Ne andrò lontana" from opera La Wally by Italian composer Alfredo Catalani. This particular song brings back one of my first opera memories, for it was the main song from the French thriller film Diva (1981) about an opera singer being stalked by a fan. It was later made into Hollywood's version The Bodyguard, this time about a pop singer played by Whitney Houston.
After several, thunderous standing ovations, Gheorghiu and her guest artists kept the energy of the evening up by doing several encores, including a fantastic version of "Granada" by Mexican composer Agustin Lara, bringing to a close an unforgettable evening among artists, friends and fans.
Video Slider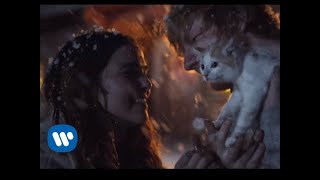 Win Tickets to See Ed Sheeran at the Rose Bowl
Ed Sheeran is back in Los Angeles, and your chance to see him perform is at the Rose Bowl in Pasadena on Saturday, Aug. 18. We are giving away complimentary tickets to the show. For a chance to enter to win, email us at info@lol-la.com with "Ed Sheeran" in the subject line and tell us why you would like to go.