Review: Opera Superstar Vittorio Grigolo Hits All the Right Notes at the Broad Stage
Vittorio Grigolo graced the Broad Stage in Santa Monica on April 18.
It seems these days that Italian opera superstar tenor and heartthrob Vittorio Grigolo is having a love affair with Los Angeles. He has visited the City of Angels several times in the past years to star in several LA Opera productions and give stellar concerts at the Broad Stage Theater located at the Santa Monica College Performing Arts Center. In addition to these presentations, he has been kind enough to offer his expertise to young opera singers of the Santa Monica College voice department, headed by professor Gail Gordon, which I was lucky to attend about a month ago. There, I was able to observe him in a more intimate and personal setting that highlighted his "Italian charm" and humor.
On Tuesday, April 18, Grigolo returned to the Broad Stage with two other Italian artists as guests, soprano Carmen Giannatasio and maestro Marco Boemi conducting a stellar orchestra made up of some of Los Angeles' great classical musicians. As part of the Celebrity Opera Series supported by a generous gift from Lloyd E. Rigler – Lawrence E. Deutsch Foundation, the audience enjoyed a pre-concert reception with a sumptuous, generous buffet that included fine wines and beverages.
The evening began with a wonderful and playful rendition of the "William Tell Overture" by Italian composer Gioachino Rossini which has been one of the most used pieces of classical music, including the theme of the classic television series "The Lone Ranger," among others. This was followed by the entrance of Grigolo wearing an elegant all-black suit singing a capella the beginning of "Verrano a te sull'aure" from opera Lucia di Lammermoor by Italian composer Gaetano Donizetti, soon joined by the beautiful Giannattasio in a flowing black evening gown with layers of black chiffon. Their interpretation of this classic aria was passionate with some great vocal pianissimos from Giannattasio.
Another well-known classical music piece used often in films and television, "Le Nozze di Figaro/The Marriage of Figaro Overture" by Austrian composer Wolfgang Amadeus Mozart, was the orchestra's second number conducted with great detail by maestro Boemi.
Giannattasio returned to the stage for the second time to sing one of the most famous opera arias of all time, "O mio babbino caro," from mini-opera Gianni Schicchi by Italian composer Giacomo Puccini. Her interpretation had effortless vocal technique and some beautifully projected high notes.
Grigolo followed with a powerful and passionate performance of another aria from Gianni Schicchi, the very appropriate "Avete Torto!…Firenze è come un albero fiorito," a love letter to the Italian city. Given that he was born in nearby Arezzo, which is also within the Tuscany region, this aria seemed to fit him perfectly, just like those slim, stylish suits he wears over his athletic body.
To end the first half of the program, all three artists came together to present pieces from the Leonard Bernstein classic "West Side Story," including the overture by maestro Boemi and the orchestra, Grigolo doing "Maria" and Giannattasio joining him for "Tonight."
To start the second part of the program with a bang, Grigolo gave a jaw-dropping, tour de force, masterful rendition of "Recondita armonia" from opera Tosca by Puccini. He embodied the charismatic artist Mario Cavaradossi in his portrayal, including that all-important sensuality. Later in the program, he performed another outstanding, but totally different character as he sang "Pourquoi me réveiller," an aria from opera Werther by French composer Jules Massenet.
Other pieces from the orchestra and maestro Boemi included lovely renditions of the Arabic- and Spanish-influenced piece "Bacchanale" from opera Samson and Delilah by French composer Camille Saint-Saëns, the overture from opera Carmen by another Frenchman, Georges Bizet, and the overture from opera La Traviata by Italian composer Giuseppe Verdi.
Additional highlights from the program included Grigolo's interpretation of "La fleur que tu m'avais jetee" also from Carmen and Giannattasio performing "Vissi d'arte" from Tosca while wearing a scarlet red version of her first gown. Finishing the evening with "Parigi o cara" from La Traviata, all the artists and the orchestra were showered with a long held standing ovation.
To reward the appreciative and adoring audience, Grigolo, Giannattasio, maestro Boemi and the orchestra stretched what was an already generous concert to include four encores made up of the "Brindisi" song from La Traviata and several Neapolitan popular songs. Their generous gift clocked the entire evening's program in at over three hours. Now, that's getting your money's worth in world-class talent!
Video Slider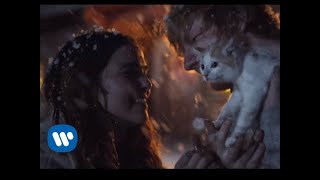 Win Tickets to See Ed Sheeran at the Rose Bowl
Ed Sheeran is back in Los Angeles, and your chance to see him perform is at the Rose Bowl in Pasadena on Saturday, Aug. 18. We are giving away complimentary tickets to the show. For a chance to enter to win, email us at info@lol-la.com with "Ed Sheeran" in the subject line and tell us why you would like to go.