Review: Pacific Opera Project Pulls Off More Magic in The Rake's Progress
Brian Cheney and Adrian Rosas in Pacific Opera Project's The Rake's Progress
My introduction to the work of Russian composer Igor Fyodorovich Stravinsky came at the hands, or should I say the feet, of some of his ballet scores such as The Firebird, The Rite of Spring and innumerable collaborations with choreographer George Balanchine, who also hailed from Russia.
Although he is considered one of the most important composers of the 20th century, some of Stravinsky's operas are not widely performed. Enter Pacific Opera Project (POP) and its artistic director, Josh Shaw, to the rescue of one of these works, The Rake's Progress, which was performed with a lot of flair, humor and talent at the historic Thorne Hall at Occidental College on Saturday, Sept. 17, and Sunday, Sept. 18. 
In two years of reviewing POP productions I have never been disappointed, and this time was no exception. Even though the opera was showcased in a traditional theater with a capacity of about 600, the experience felt as intimate and creative as the breakthrough productions at their old haunt of the Highland Park Ebell Club which holds one third of that number in cabaret-style seating.
The storyline of this opera is basically a Faustian tale about a man, Tom Rakewell (played by popular tenor Brian Cheney), who deserts his fiancée Anne Trulove (hint) played by the talented soprano Rachele Schmiege. While trying to "live by my wits and trust to my luck," Rakewell is seduced by news of an inheritance left by an uncle that is brought by a mysterious stranger, Nick Shadow (hint), played and sung masterfully by the young bass-baritone Adrian Rosas. He promises to help Rakewell, and that his "fee" will be reasonable and due at the end of the transactions.
Soon, Rakewell gets whisked off by Shadow to London in order to settle his uncle's estate, leaving Anne behind but promising to return soon. Cheney and Schmiege have excellent chemistry together, and that – along with their powerful, pure, soaring voices – makes for some of the best musical moments. They are joined by Anne's father Mr. Trulove, played by the thundering bass-baritone Patrick Blackwell (whom I loved as Baron Scarpia in POP's production of Tosca in 2014) in an excellent trio number at the end of Act I as Shadow paces ominously back and forth behind these three characters.
Because Thorne Hall has no pit, the talented and rather sizable orchestra by POP standards, was placed behind the scenery. Conducted by POP's musical director and co-founder Stephen Karr, the sound was full bodied and lush but muted enough to highlight the voices of the talented cast, which included members of the Occidental College Glee Club under the direction of Desiree La Vertu. There were even several unexpected harpsichord accompaniments.
Stravinsky wrote this musically eclectic three-act opera back in 1951, but in this production the action takes places in 1970's London with retro-inspired costumes by the talented Maggie Green and effective lighting by Marie Mawji. The simple, ingenious, multi-use sets by Shaw take on several transformations with the help of many onstage hands and cast members, keeping the flow of the story while conveying the different locations.
When Rakewell reaches London, he is seduced by its glamour and debauchery, as exemplified by Mother Goose's strip club, headed by sensual and naughty Mother Goose. Played and sung wonderfully by mezzo-soprano Danielle Bond, she wants first crack at the young and now rich newcomer.
As the cautionary tales continues, Rakewell begins to get bored of his frivolous existence, so Shadow suggest that he marry the famous bearded lady "Baba The Turk," played with humor and a lovely voice by mezzo-soprano Adelaide Sinclair, in order to add some spice and notoriety to his life. Back in her small town, Anne wonders why she has not heard from her beloved and makes up her mind to search for him in London. To her surprise, she finds him married to Baba and returns home with a heavy heart.
Finding his marriage intolerable and his fortune dwindling, Rakewell gets lured by Shadow into investing in a magical machine that turns stones into bread, a prop that looks just like a toaster oven of today. Of course, the business venture fails, and now it's time for him to sell all his assets in an auction presided over by POP favorite, baritone Robert Norman in a short but very funny performance. Anne enters the scene and gets advice from Baba to again look for him.
This is the end of the road for Rakewell, and Shadow has come to collect his "fee." In a last-ditch effort to save his soul from the devil, he plays a diabolical game of cards, which he wins. Irate, Shadow makes his exit while singing effortlessly the aria "I burn, I burn! I freeze!" – but not before turning Rakewell insane. In the last act, Anne finds Rakewell in an insane asylum, where he thinks of himself as Apollo to her Venus. She comforts him, but shortly after she leaves, he dies.   
The moral of this opera tale is "the Devil finds work for idle hands." This does not apply to Pacific Opera Project's The Rake's Progress of course, which was an obvious product of hard work by the talented, passionate cast, musicians and production staff, but especially the work of their fearless and creative leader, Josh Shaw.
Video Slider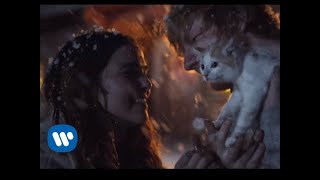 Win Tickets to See Ed Sheeran at the Rose Bowl
Ed Sheeran is back in Los Angeles, and your chance to see him perform is at the Rose Bowl in Pasadena on Saturday, Aug. 18. We are giving away complimentary tickets to the show. For a chance to enter to win, email us at info@lol-la.com with "Ed Sheeran" in the subject line and tell us why you would like to go.