Review: Pacific Opera Project's Double Bill of The Monkey's Paw and The Medium Will Haunt You
Chelsea Friedlander and David Childs in The Medium
One of the great television shows that I enjoyed as a kid was Rod Serling's "Night Gallery," which aired from 1969 to 1973 and featured short-story vignettes of horror and the supernatural. Serling had previously created and produced the iconic TV series "The Twilight Zone" (1959-1964), another one of my favorites, which was focused on the science-fiction genre. 
When I stepped into the historic Ebell Club of Highland Park (built in 1912) for the Saturday, Oct. 28 performance of Pacific Opera Project's (POP) production and world premier of The Monkey's Paw by local composer Brooke deRosa together with The Medium, by the late Italian-American composer Gian Carlo Menotti (first performed in 1946), I was harked back to those episodes of "The Night Gallery." The age and dark architectural elements of the building's interior – along with the simple and Victorian-looking set design by POP's artistic director, producer and co-founder Josh Shaw – put me in the mood for what was to be a great pre-Halloween treat.
In most of POP's performances, the front part of audience is seated around small round tables "cabaret style" as one sips a variety of wines and other beverages along with an ample platter of cold meats, crackers, berries and other finger foods. The general audience seats are placed in a rear salon that is raised several steps, allowing those seated in the back a full view of the stage.
First on the bill was deRosa's opera The Monkey's Paw with a storyline taken from the supernatural short story of the same name by the English author W.W. Jacob that was published in England in 1902. It involves a cursed animal's paw which can grant the possessor three wishes, but along with them come grave consequences.
A working-class couple, a father (baritone Phil Meyer) and his wife (soprano Marina Harris) await, along with their son Herbert (tenor William Grundler), the arrival of a longtime friend, Sgt. Major (baritone Ben Lowe) ,who has served in the British Army in India. He arrives with tales of his travels, which include the encounter and use of a "magical" monkey's paw that he subsequently throws into the fireplace's flame as it has only brought him heartache and sorrow. After he leaves, the father rescues the burnt paw, and together they ponder what type of wishes could come true.
In the role of the father, Meyer, who is also a co-founder of POP, has the voice and acting ability to pull off any role that I have seen him in, and this one was no exception. As the mother, Harris possessed great strength in her vocal projection and a rich timbre while putting forth a well-acted role. Grunder as the dotting son brought a believable innocence to his performance along with fine vocals, while Lowe made a huge impression with his thunderous, rich baritone voice even though his role was the one with the least stage time.
While this is composer deRosa's first opera, her music achieved a high level of sophistication, mood and lyrical riches that complemented the suspenseful storyline nicely and at the same time gave the singers enough material to shine. Having the outstanding and detailed piano accompaniment by music director Douglass Sumi on both operas added to the suspense and/or macabre essence of each of these two works.
After a short intermission, it was time for Menotti's The Medium, which shared the same stage set with some minor prop changes as the eerie evening continued.
In this storyline we were introduced to Madame Flora (mezzo-soprano Maria Dominique Lopez) aka "Baba," a charlatan medium who makes money on the desperation of parents that want to contact their deceased children. She has just arrived home drunk and throws a fit because her biological daughter Monica (soprano Chelsea Friedlander) and Toby (baritone David Samuel Childs), an adopted mute servant boy, have not set up her parlor for that evening's séance.
As the tormented and conniving "Baba," Lopez gave a tour-de-force performance which combines excellent acting with gorgeous, rich vocals as she questions her sanity by the end of the opera. In the role of Monica, Friedlander was up to par with a delicate, crystalline voice and an ingénue demeanor. Even though he had no speaking or singing segments in this role, Childs did a fine job as the beleaguered and shy Toby who is in love with Monica. Once again, we got to enjoy the talent of Meyer and Harris as Mr. And Mrs. Gobineau in "crossover" roles from The Monkey's Paw in well-executed supporting roles as frequent clients of "Baba."
Artistic director Shaw has put together a unique production with a group of talented artists that, along with his production team and staff, included the outstanding period-inspired costumes by Maggie Green. POP has once again proved that great opera requires more than just money. It requires heart, creativity and, in this double opera bill, a bit of fright on stage. 
The Medium and The Monkey's Paw are performed at 8 p.m. on Nov. 3, 4 and 5 (also at 3 p.m. on Sunday) at the Miles Memorial Playhouse (1130 Lincoln Blvd., Santa Monica). For tickets and more information, visit pacificoperaproject.com/themediumandthemonkeyspaw.
Video Slider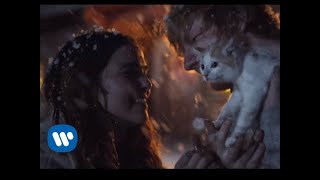 Win Tickets to See Ed Sheeran at the Rose Bowl
Ed Sheeran is back in Los Angeles, and your chance to see him perform is at the Rose Bowl in Pasadena on Saturday, Aug. 18. We are giving away complimentary tickets to the show. For a chance to enter to win, email us at info@lol-la.com with "Ed Sheeran" in the subject line and tell us why you would like to go.