Review: Part Action Film, Part Satire, and Part Drama – American Made
Tom Cruise stars as Barry Seal in American Made. (David James/Universal Studios)
Tom Cruise may be one of the most famous actors Hollywood has ever produced, and he remains the very personification of celebrity, but a curious change has occurred with regard to his actual films. Cruise, in perhaps the years since he collaborated with Steven Spielberg on War of the Worlds, no longer makes event films. Instead, Cruise has the source of entertainment that is reliable if sometimes inessential. A Tom Cruise movie will almost never waste a person's time, but nor will it produce indelible moments like A Few Good Men or Jerry Maguire once did during the peak of his stardom. Cruise settles instead for consistency and quality control. 
American Made, Cruise's latest film, will not alter the actor's career path of well-crafted mainstream entertainment. The movie – directed by Doug Liman, who helmed Cruise's science-fiction success Edge of Tomorrow and kicked off the Jason Bourne series – stars Cruise as Barry Seal, an airline pilot whom a CIA agent (Domhnall Gleason, the star of every third movie released since 2015) enlists to spy on rebels in Latin America during the early 1980s.
While working for the CIA, Seal also becomes involved with the cocaine trade and smuggles drugs into the United States while simultaneously smuggling weapons into Latin America. Both the CIA and the drug cartels keep making increasing demands of Seal, who uses his skill as a pilot to evade capture by the DEA.
American Made is based on a true story, and intersects with some of the biggest events of the era, including the Iran-Contra scandal. It is part action film, part satire and part straight drama, and is perfectly adequate at all three genres. 
After so many pure action films like The Mummy and Jack Reacher: Never Look Back, American Made feels like a slight departure by Cruise, even if it never quite tests the actor too much (While it may feel more of a stretch than another Mission: Impossible sequel, Magnolia it is not.). It relies on the star doing a variation of his signature role, the cocky talent a bit too confident in his own abilities, and Cruise is as reliable as ever playing this type.
It is remarkable how adaptable Cruise's persona is after so many decades. Cruise can play it whether the actor is 25 or 55, and it works whether the film is an action film, a comedy, a drama or a mishmash of genres, as American Made is. This is the reason why Cruise, while not the box office titan he was during the 1980s and 1990s, feels like the last movie star in the vein of a John Wayne or Cary Grant in a way that contemporary Hollywood heavyweights like Matt Damon do not.
As a film, American Made is serviceable but never exceptional. It is a film marked by craftsmanship rather than ambition. Cruise and Liman never test themselves while never testing the audience, and the result is a film that is pleasant, entertaining and unremarkable.
The most remarkable thing about the film is just how Cruise seems so detached from any sense of time itself. The film takes place primarily during the 1980s, but Cruise looks as he does now, and did a decade ago and two decades before that. It is not just that Cruise is the poster boy for aging well, it is that Cruise's essentially conservative persona will never be too fashionable and thus never unfashionable.
This is a safe film, and the only hint of danger comes from Gleeson, the Ex Machina star and minor Star Wars villain who approaches the role with a touch of madness. Gleason is the film's one unstable element and thus elevates every scene in which he appears. American Made is otherwise a very safe film that always entertains but rarely sets out to do much more.
———————————————————-
American Made
Universal Pictures
Now in theaters
3 Stars
Films are rated on a scale of 5 stars (must-see), 4 stars (exceptional), 3 stars (solid), 2 stars (average) and 1 star (unworthy).
Video Slider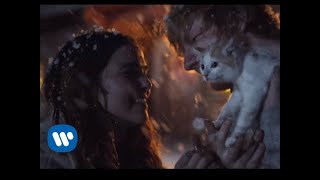 Win Tickets to See Ed Sheeran at the Rose Bowl
Ed Sheeran is back in Los Angeles, and your chance to see him perform is at the Rose Bowl in Pasadena on Saturday, Aug. 18. We are giving away complimentary tickets to the show. For a chance to enter to win, email us at info@lol-la.com with "Ed Sheeran" in the subject line and tell us why you would like to go.