Review: Pentatonix Light Up the Hollywood Bowl
Pentatonix (Courtesy Photo)
Three-time Grammy Award winners Pentatonix hit the Hollywood Bowl stage for three consecutive nights, July 2-4, and the a cappella quintet lit up the crowd during their three shows, especially on the 4th of July, our nation's Independence Day, with a 13-song performance.
Pentatonix, comprised of vocalists Scott Hoying, Mitch Grassi, Kirstin Maldonado, Avi Kaplan, and Kevin Olusola, surely outdid themselves. They are popular and universally known for their covers, highlighted by their pop-style arrangements fusing vocal harmonies, basslines, riffing, and to the surprise of perhaps many, even percussion and beatboxing. It's one of those things you just gotta hear and witness live in order to believe it!
On this night, Pentatonix delivered two different, but very spectacular live medleys: one paying tribute to the French electronic studs Daft Punk (a duo) and the other to Michael Jackson.
In the Daft Punk medley, Pentanonix manage to somehow include "Get Lucky" and "Celebrate", among others. I tell you, describing those illustrious minutes of music isn't enough, nor does it provide justice! Simply, it turned out to be outstanding. And Michael Jackson's medley, which features "I'll Be There", "Bad", "Remember the Time", "Man in the Mirror", among others, was beautiful. Those really are the two perfect medleys for them.
Oftentimes, the Hollywood Bowl Orchestra, led and conducted by Thomas Wilkins, and the US Air Force Band of the Golden West both accompanied PTX (not on the medleys though). This was an usual, but rather rewarding musical aspect to PTX performing live before a sold out crowd. And all the members of the group made note of it while telling the crowd of their particular "excitement" and "honor" of having to sing alongside them at the prestigious venue.
Via PTX's unique style, Leonard Cohen's "Hallelujah", Elvis Presley's "Can't Help Falling in Love" and Queen's "Bohemian Rhapsody" each provided a special touch to the night. But it appeared as if John Lennon's "Imagine" was an even more special track for the fans present.
And many were surprised with how PTX gave us Kanye West's "Coldest Winter". Some couldn't come to understand how PTX were able to cover it, but they did. And that's what they do with their distinguished musical talent: musically surprise all of us while leaving us with jaw-dropping faces based on their first-rate abilities of providing covers. Just amazing!
Video Slider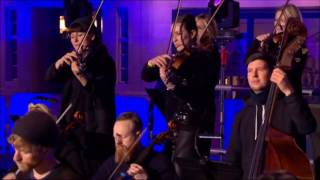 Win Tickets to See Pete Tong at Hollywood Bowl
Pete Tong is back in Los Angeles, and your chance to see him perform is at Hollywood Bowl on Thursday, Nov. 9. We are giving away complimentary tickets to the show. For a chance to enter to win, email us at info@lol-la.com with "Pete Tong" in the subject line and tell us why you would like to go.