Review: A Perfect Circle Delivers in Not-So-Perfect Times
A Perfect Circle stirred a sold-out Hollywood Bowl with melodies old and new.
Singer Maynard James Keenan is a man who thrives in tumultuous times. The last time A Perfect Circle released an album, 2004's politically-charged cover album eMOTIVE, George W. Bush was in office and the United States was at war in Iraq. The band went on what would be a 12-year hiatus in 2005, so it's no wonder given the recent political climate around the country, that the supergroup founded by Keenan and guitarist Billy Howerdel would come rushing back to the forefront of music fans' minds when they announced they were headlining a month-long trek ending with a performance at the historic Hollywood Bowl on May 7.
The sold-out crowd was diverse mix of das bunker cybergoths and recovering metalheads, now in their 30s, who grew up with the band's breakout debut album, 2000's Mer De Noms. Although attendees at the Bowl are typically allowed to bring in their own food and drinks, Sunday's show was a lease event, leaving most fans outside pregaming with their own beer, wine and food to avoid dropping a mortgage payment just to get a decent buzz going before the show.
San Diego's self-proclaimed "Cholo goth" electro duo Prayers opened the show with their '80s inspired beats and darkwave aesthetic. Fronted by the heavily tattooed Rafael Reyes, Prayers' sound is a nod to bands like Bauhaus and New Order that would have fit perfectly opening up for Keenan's electronic project Puscifer, but unfortunately got lost on the crowd who were clearly there for APC. For those familiar with the duo's meteoric rise in the dark, gothy hipster club scene of Los Angeles, Reyes and bandmate/programmer Dave Parley, put on an impassioned performance that was just met with tepid response from the crowd who, from the jeers and taunts, obviously aren't in the Cloak & Dagger, Das Bunker goth club circles that have adopted the Chicano electro goths as their own.
As the weather went from cold to freezing in the Hollywood Hills, the lights drew dark as the ominous opening notes of "The Package" rang out from the dimly lit stage that was veiled in a long curtain that slowly revealed the shadows of Keenan, Howerdel and the rest of the band: former Smashing Pumpkins guitarist James Iha, bassist Matt McJunkins and drummer Jeff Friedl, who both have contributed to both Puscifer and Howerdel's other project, ASHES dIVIDE.
As the song kicked in with the full band, the curtain dropped to reveal the current incarnation of group, with Keenan perched atop a raised platform that gave the notoriously vertically challenged singer a view as big as his boisterous and powerful voice.
They followed right away with "The Hollow," the opening track from their almost 20-year-old debut. The precise tone of Howerdel's guitar and Keenan's nearly perfect range captured the visceral feel of the studio version of the song onstage perfectly. Just two songs into their set and the band was already challenging the biting, cold weather on who could give the audience bigger chills.
Avid music fans would agree that there is perhaps no voice in modern rock and progressive metal that is as iconic as Keenan's. His powerfully soulful and beautifully haunting croons gave songs like "The Noose" and "Weak and Powerless," from their 2003 sophomore release, Thirteenth Step, a new depth of emotion and had the audience transfixed as Howerdel's and Iha's meticulous melodies and layered guitar tones danced around McJunkin's driving and steady basslines.
The band turned to a few cuts from eMOTIVE, playing the Depeche Mode favorite "People Are People" and the classic John Lennon anthem "Imagine," but covering the songs in such a unique and original way that the only way you could even tell it was the song was by the lyrics.
"We are artists. Our job is to observe, interpret and report. We are emotional merchants. It's what we do," Keenan said before the downtrodden piano intro of Lennon's originally optimistic ballad of hope and peace around the world played out like a funeral dirge.
Keenan's wry and sardonic sense of humor was in true form, often joking with the crowd about uninformed celebrities who spout their political beliefs ("I have a solution for that: fuck you.") and the importance of anal sex ("If you want to have anal sex, you have to make sure you are in shape and on point, and invest in shake weights!")
In between Keenan's charmingly crude interludes the band turned to a few new songs, "By and Down" released in 2011 on their live album Stone and Echo: Live at Red Rocks and a brand new song "Hourglass" that had a very cold, electronic Puscifer feel with the droney guitar work of ASHES dIVIDE, a mash up of Kennan and Howerdel's respective side projects.
Rounding out the band's set was the stirringly melancholic ballad "Orestes" from Mer De Noms and "The Outsider," perhaps the band's biggest single, which Keenan dedicated to his "brothers in the program," a nod to the song's theme of addiction and isolation from people who don't understand the daily struggles that plague drug addicts.
The group capped off their set, snubbing what should have been obvious songs like "Judith" and "3 Libras," for yet another new song "Feathers," that left many people scratching their heads as the house lights came up and the stage crew began tearing down the stage. Despite the collective "wtf moment" that followed the end of the song, the new tune sounded like a classic APC track that is driven by powerful drums, winding and layered walls of guitar and Keenan's pained and elegant howls.
Earlier in the band's performance, Keenan said that this tour was a way for the band to reintroduce themselves to their fans, but it was obvious by the time the band exited the stage and the waves and waves of fans filed out toward the exits, that there was no need for reintroductions. For Keenan, Howerdel and the members of A Perfect Circle, it is about reinventing themselves again for a new age of artistic rebellion in the face of authoritarian discourse, and like their moniker suggests, there's no one more perfectly suited to the task of another round.
Video Slider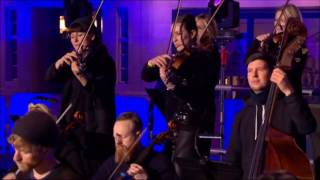 Win Tickets to See Pete Tong at Hollywood Bowl
Pete Tong is back in Los Angeles, and your chance to see him perform is at Hollywood Bowl on Thursday, Nov. 9. We are giving away complimentary tickets to the show. For a chance to enter to win, email us at info@lol-la.com with "Pete Tong" in the subject line and tell us why you would like to go.