Review: Peter Rabbit Reimagined For a New Generation
Flopsy, Mopsy, Peter (James Corden), Benjamin and Cottontail in Columbia Pictures' Peter Rabbit.
(Sony Pictures)
Beatrix Potter's iconic children's book hero Peter Rabbit comes to life in a modern day story, giving it an exciting update for modern families.
Late-night television host James Corden voices the rebellious rabbit in Peter Rabbit – Will Gluck's animated feature for Sony Pictures Animation.
Departing from the source material but giving it a slight wink in the opening with Sam Neill making a very memorable appearance as the book's Mr. McGregor, Peter Rabbit introduces new characters in Thomas McGregor (Domhnall Gleeson) taking over his uncle's house and who meets a friendly neighbor named Bea (Rose Byrne). Bea has been Peter Rabbit and his little sister's caretaker since their family passed (dad like in the books) and lovingly raises them to have free reign over the land because 'it was theirs first'. She tells this sentiment to Thomas in the hopes that they will be able to get food from the garden he inherited. And even though Thomas hesitantly agrees, he still gives in to his control-freak nature and barricades the rabbits from food beginning a new war behind Bea's back.
Filled with funny setpieces where Peter and his animal friends set up traps to circumvent Thomas' attempts to keep them out of the house, the movie gives off a Home Alone vibe. Gleeson is hilarious with the slapstick humor against his little foes and also a great leading man as he tries to woo Bea but internally fights his need to not let anyone in including the rabbits. As things start to change, Peter begins to lose not only his knack for breaking and entering because Thomas buys new tech but also he begins to lose the affection of Bea to Thomas. This subplot creates even more wacky fights and ties the kids story aspect of the film with the romantic subplot in a way that will have the whole family engaged.
Byrne is charming as Bea and funny; it's always great to see her be comedic and her chemistry with Gleeson is adorable. Her affection toward the rabbits are too and you start to root for them all to just make peace. But it's Peter Rabbit and learning his lesson which storybooks the film.
Peter Rabbit creates new stories for a new generation with Potter's beloved characters. Purists may not be into it at all but families will enjoy this entertaining children's movie. There's plenty of laughs, adorable bunnies, so much slapstick and adorable relationships in this flick that does enough to step away from the books but doesn't quite achieve a timeless story. The relationship stuff is pretty solid but a lot of times Peter Rabbit's main story would slip away when too much Corden would come through but kids won't notice that.
The Rabbit story has it's strengths with Peter's relationships with his sisters, who were all HILARIOUS and nearly stole the show from him. I had no idea that Daisy Ridley, Margot Robbie (who I did recognize as the narrator) and Elizabeth Debicki voiced them. It was great. And there's a slew of surprise voices in the film that were so unexpected till the credits rolled.
Peter Rabbit is a cute and entertaining popcorn flick!
—————————————————————–
Peter Rabbit
Sony Pictures
Now in theaters
3.5 Stars
Films are rated on a scale of 5 stars (must-see), 4 stars (exceptional), 3 stars (solid), 2 stars (average) and 1 star (unworthy).
Video Slider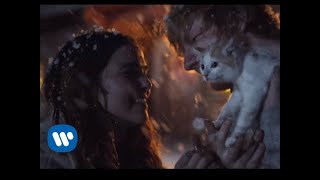 Win Tickets to See Ed Sheeran at the Rose Bowl
Ed Sheeran is back in Los Angeles, and your chance to see him perform is at the Rose Bowl in Pasadena on Saturday, Aug. 18. We are giving away complimentary tickets to the show. For a chance to enter to win, email us at info@lol-la.com with "Ed Sheeran" in the subject line and tell us why you would like to go.