Review: Plácido Domingo Celebrates 10th Anniversary of the Domingo-Colburn-Stein Young Artist Program
Lauren Michelle and Summer Hassan, conducted by Plácido Domingo (Lawrence K. Ho)
If you ask most people to name a famous male opera singer, the name of Spanish-born Plácido Domingo would be one mentioned. As a member of the iconic Three Tenors operatic singing group that included the late, Italian Luciano Pavaroti and another Spaniard, José Carreras, maestro Domingo and his buddies became a worldwide sensation during the 1990s and early 2000s. This powerhouse vocal group filled stadiums all over the world and is credited for having the best-selling classical album of all time with the recording of their debut concert. Their televised, sold-out 1994 concert at Dodger Stadium was viewed by about 1.3 billion viewers worldwide, so you could say that it was an operatic home run! 
Another aspect of maestro Domingo that is lesser-known is his commitment to help young, talented opera singers get great vocal training and provide them with opportunities to perform on world-class stages. Two of his most salient, continuing projects are the vocal competition Operalia, which was founded by him in 1993, and the currently named Domingo-Colburn-Stein Young Artist program housed within the Los Angeles Opera organization which celebrates its 10th anniversary this year.
On Saturday, April 1, at the Dorothy Chandler Pavilion, a gala concert was performed before a sold-out house to honor the Domingo-Colburn-Stein program's 10th year, featuring the LA Opera Orchestra, conductor Grant Gershon, special guest Canadian soprano Sondra Radvanovsky and a cast of stellar singers made up of current students and past graduates of this important vocal program.
Originally the evening was to include German soprano Diana Damrau and French bass-baritone Nicolas Testé, both of whom star in the current LA Opera production of The Tales of Hoffman along with Italian tenor Vittorio Grigolo, but because of health reasons neither could partake in the concert. Not sure if their absence meant more stage time for the young artists, but if that is the case, they filled those big shoes with talent and passion.
The evening began on a high note (pun intended) as maestro Domingo led the orchestra in welcoming the talented Radvanovsky singing the aria "Merce, dilette amiche" from the opera I Vespri Siciliani by Italian composer Giuseppe Verdi. Sporting a gorgeous dark blue/purple gown, she thrilled the audience with her creamy, expressive voice and some outstanding coloratura. This was followed by the ensemble piece "Un di, se ben rammentomi, Bella figlia dell'amore…" from opera Rigoletto (also by Verdi), splendidly performed by Korean baritone Kihun Yoo, mezzo-soprano Renée Rapier, Korean soprano Hyesang Park and Mexican-American tenor Joshua Guerrero as the womanizing Duke of Mantua.
From the opera Don Pasquale by Italian composer Gaetano Donizetti came "Pronta io son" in the voices of soprano Liv Redpath and baritone Theo Hoffman, followed by another ensemble piece "Siete voi?…Questo è un nodo avviluppato …" from Cinderella by Italian composer Gioachino Rossini. This time, the talented group was made up of tenor Carlos Enrique Santelli, mezzo-sopranos Renée Rapier and Michelle Siemens, joined by Korean soprano So Young Park and bass-baritone extraordinaire Nicholas Brownlee.
Even though I had enjoyed Brownlee's performances on several occasions, it was not until I heard him singing the following number, "La Lluvia ha cesado" from the zarzuela La Tempestad by Spanish composer Ruperto Chapí, that my ears and eyes realized what a star he is. Even though the text is in Spanish, his diction was excellent, his voice powerful and expressive while his superb acting skills complemented the brooding music.
To close the first half of the program, the audience got a surprise as maestro Domingo left the conducting job to Gershenson and joined Radvanovsky in an outstanding rendition of "Orfanella il tetto umile" from Giuseppe Verdi's opera Simon Boccanegra, which is one of the first roles Domingo took on as a baritone. Not only did the age of both artists match the opera's characters, but their interpretation of the father and daughter duo transported everyone to Renaissance Italy right before our eyes.
After intermission, the audience got to hear more from maestro Domingo as he sang the famous duo aria "Au fond du temple saint" from the opera The Pearl Fishers by French composer Georges Bizet (of Carmen fame) along with the much younger Guerrero who is coming into his own as a sought after young tenor. It still amazes me how Domingo continues going strong after almost 60 years in the opera world and that he can still keep up with much younger singers on stage.
Other highlights of the evening included an outstanding performance by tenor Brenton Ryan doing "Oh, the lion may roar" from American composer John Corigliano's opera "The Ghosts of Versailles," as he held the audience's attention with his strong, menacing voice accompanied by one hell of an acting job. Another was the tour de force performance by Radvanovsky in the aria "Senza mamma" from Italian composer Giacomo Puccini's opera Suor Angelica. Her achingly, beautiful voice full of pain was palpable, especially in her gorgeous pianissimos.
One of the great things about the city of Los Angeles is its diversity, and this is also true about those on stage that night, which included soprano Summer Hassan and African-American soprano Lauren Michelle. The two were well matched and sang beautifully the "Sull' aria" "Che soave zeffiretto" from Mozart's The Marriage of Figaro. The tall, elegant Michelle returned later in the program to perform an outstanding rendition of Jules Massenet's "Dis-moi que je suis belle" from opera Thais.
As the evening came to a close, the entire group of singers gathered on stage and belted out the "Champagne Song" from Austrian Romantic composer Johann Strauss, an appropriate choice for the evening's celebration. As the audience held several minutes of a standing ovation, one thing was for sure, the pride of maestro Domingo could be seen onstage and his joy palpable.
Video Slider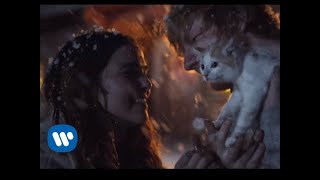 Win Tickets to See Ed Sheeran at the Rose Bowl
Ed Sheeran is back in Los Angeles, and your chance to see him perform is at the Rose Bowl in Pasadena on Saturday, Aug. 18. We are giving away complimentary tickets to the show. For a chance to enter to win, email us at info@lol-la.com with "Ed Sheeran" in the subject line and tell us why you would like to go.