Review: POP's Production of The Barber of Seville is Bugs Bunny Funny
Sergio Gonzalez, Meagan Martin and Bernardo Bermudez in POP's The Barber of Seville (Martha Benedict)
One of my most vivid and hilarious experiences growing up was watching the iconic Warner Bros. "Looney Toons" and "Merrie Melodies" cartoons, many of which included nods to opera and classical music. Some of my favorites are "Bugs Bunny Rides Again" (1948), "What's Opera, Doc?" (1957) and the iconic "The Rabbit of Seville" (1950), which gets its name and some of its music from the real opera titled The Barber of Seville by Italian composer Gioachino Rossini.
Pacific Opera Project (POP) has brought their 2013 edgy and hilarious production of The Barber of Seville back to the historic Ebell Club of Highland Park (built in 1912) with opening night taking place on Saturday, Nov. 12. This "opera buffa" (comedy) is considered a masterpiece, and it had its premiere exactly 200 years ago in the Teatro Argentina in Rome, Italy.
POP updates the story to modern-day Los Angeles with its characters inhabiting the world of entertainment, Hollywood and pop music. The plot is basically a love story between heartthrob/actor Count Almaviva (tenor Sergio Gonzalez), who is trying to woo pop-music star Rosina (soprano Meagan Martin) with the help of his friend and West Hollywood stylist Figaro (Bernardo Bermudez). There are obstacles, of course, like her producer/manager Don Bartolo (bass-baritone E. Scott Levin) who wants to marry her with the help of aging cokehead rocker Don Basilio (baritone Phil Meyer reprising his role from the original production).
Instead of the usual small orchestra, music director and POP co-founder Stephen Karr is accompanied on solo piano by assistant conductor Zach Neufeld to good effect, in this four-hand piano arrangement of the original score.
We first meet some of the main characters in front of the Beverly Hills mansion where Rosina lives with Don Bartolo. Here we find Count Alvina with a group of musicians trying to serenade her in a funny, touching, romantic scene reminiscent of a Latin-American traditional serenata. Gonzalez has a wonderful, pure voice in the high tenor range, which fits perfectly with his young, slim physique. His acting is superb with excellent comic timing – think an operatic Justin Timberlake. As Rosina, Martin complements him perfectly in tone quality, youth and attractiveness with a rich, full bodied voice and excellent acting skills.
Venezuelan baritone Bermudez with his rich, thunderous voice takes on the role of the dashing stylist to the stars Figaro who's there to help his friend Almaviva get the girl. The audience first meets him as he enters from behind, heading towards the stage between the tables as he sings the famous aria "Largo al factotum," a very appropriate and effective choice by director and POP co-founder Josh Shaw.
As the villains of the story, POP regulars and character actors/singers Levin and Meyer are hysterical as they scheme and bumble attempts at keeping the lovers apart. Rounding out the cast are soprano Melinda Ehrlich as Berta, baritone Kevin Blickfeldt as Fiorello and tenor Christopher Anderson-West as the Sergeant, who along with chorus members William Grundler, John-David Wiese and Matthew Ian Welch make an updated version of the Keystone Cops. The sets by Shaw are simple but effective, while the costumes by the talented Maggie Green round out the look of the production.
POP has built its reputation on taking on well-known operas and spinning them with a fresh storyline, talented young singers, irreverent titles and nods to popular culture. Given that The Barber of Seville was one of their first productions, you might say that this opera was the impetus that gave the L.A. audience the underdog, young opera company, which is now "more grown up and more valuable than ever to L.A. opera" according to LA Times classical music critic Mark Swed.
The Barber of Seville runs Nov. 17, 18 and 19 at 8 p.m. at Ebell Club of Highland Park (131 S. Ave. 57, Los Angeles 90042). For tickets and more information, visit pacificoperaproject.com.
Video Slider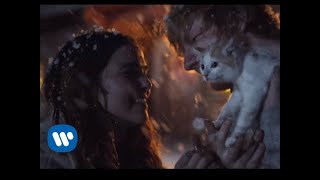 Win Tickets to See Ed Sheeran at the Rose Bowl
Ed Sheeran is back in Los Angeles, and your chance to see him perform is at the Rose Bowl in Pasadena on Saturday, Aug. 18. We are giving away complimentary tickets to the show. For a chance to enter to win, email us at info@lol-la.com with "Ed Sheeran" in the subject line and tell us why you would like to go.