Review: A Recital Version of Carmen Raises Funds for Up-and-Coming Vocal Artists
Opera Buffs' Carmen event satisfied in every way.
It seems these days that the opera Carmen by French composer Georges Bizet is quite popular in the city of Los Angeles. There is an upcoming production by LA Opera headed by Puerto Rican/Cuban soprano Ana Maria Martinez with performances starting on Sept. 9 through Oct. 1 at the Dorothy Chandler Pavilion. Coincidentally, just across the street and a block away from the Music Center, a wonderful recital version of this very popular opera took place at the intimate Zipper Concert Hall located at the Colburn School in downtown Los Angeles on Sunday, Aug. 20, all for a great cause.
An organization named Opera Buffs, whose purpose is to "assist promising young artists in Southern California who are building careers in opera," put together this performance as a fundraiser and invited several previous recipients of their funds and support to be part of the ensemble. The stellar cast included mezzo-soprano Kelley O'Connor (Carmen), tenor Charles Castronovo (Don José), soprano Alyssa Wills (Micaëla), baritone Rod Gilfry (Escamillo), baritone Bernardo Bermudez (Morales), bass Ben Lowe (Zuniga), soprano Oriana Falla (Frasquita), mezzo-soprano Katherine Beck (Mercedes), tenor Todd Strange (Remendado) and tenor Landon Shaw II (Dancaïre). Joining the cast of singers on stage was a small but outstanding chorus and a sizable, rather young looking orchestra led by the energetic conductor Brent McMunn.
Set in Seville, Spain, the storyline of the opera follows the escapades of the naughty, some may say early feminist, character of Carmen who loves men, but only when it suits her. This role is probably one of the most coveted in opera for any female voice, and O'Connor does it full justice, especially in her opening number, the famous "Habanera" aria where she sings about how fickle love can be. Dressed in a gorgeous, red laced, scarlet red gown, she embodies the tempestuous Carmen in all her scenes with a rich, full body voice complemented by outstanding acting and spot on sensual hip movements.
As the emotionally weak, momma's boy corporal Don Jose, Castronovo pulls out some very powerful vocal projections in several of his arias. In his duet with Wills, "Parle-moi de ma mère!/Tell me about my mother," he showcases an even more expressive and rich voice tone than the first time I enjoyed his singing in LA Opera's iconic production of the late Mexican composer Daniel Catan's Spanish language opera Il Postino. In her part, Wills provides some lovely, strong vocal accompaniment that could have been complemented with better acting skills.
Another famous aria from this opera is the recognizable "Toreador Song" aka "Votre toast, je peux vous le rendre," an ensemble piece headed by the character of Escamillo, sung with great panache by Grammy-nominated baritone and actor Rod Gilfry. His toreador/bull fighter role is one which encompasses a powerful presence and an equally powerful, thunderous voice. As a bonus, much like O'Connor he does not rely on sheet music, which made both of their interpretations more believable.
Excellent in the supporting role of the military Morales was Bermudez whose work in the zarzuela/operetta genre I am familiar with. His tall, elegant and debonair look is paired with a big voice, even though this time it was for smaller part. As Carmen's companions, Beck and Falla have great comical character development and complement each other vocally in their aria together "Mêlons! – Coupons!". The capable voices of Lowe, Strange and Shaw round out the outstanding production.
After a thunderous standing ovation, the cast, the musicians and their audience were invited to a sumptuous after-concert reception al fresco in the adjacent plaza, next to the Museum of Contemporary Art (MOCA). Needless to say that the soul, ears and stomachs of those who attended this worthy event were very satisfied with this Carmen.
Video Slider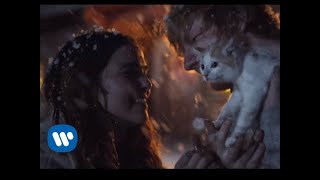 Win Tickets to See Ed Sheeran at the Rose Bowl
Ed Sheeran is back in Los Angeles, and your chance to see him perform is at the Rose Bowl in Pasadena on Saturday, Aug. 18. We are giving away complimentary tickets to the show. For a chance to enter to win, email us at info@lol-la.com with "Ed Sheeran" in the subject line and tell us why you would like to go.