Review: Red Hot Chili Peppers at Valley View Casino Center
Anthony Kiedis, Chad Smith, Flea and Josh Klinghoffer of the Red Hot Chili Peppers
Anthony Kiedis: How's it feel to be inside a whale's vagina, Flea?
Flea: I'd love to crawl inside a whale's vagina.
Anthony Kiedis: You just did.
It appears the Anchorman jokes still haven't worn off. It's not just the Red Hot Chili Peppers. Most bands that come through SD can't help themselves. San Diegans have come to expect it now. Even drummer Chad Smith, after the show had ended and all the band but him had left the stage, couldn't help but walk up to the mic and go full Ron Burgundy, giving the ol', "You stay classy, San Diego."
Dead horses aside, the banter between Flea and Kiedis, the general goofiness, mixed with an appropriate (not too much) amount of jamming, and a setlist that dug up a few oldies, made Tuesday's show at the Valley View Casino Center something that you could only describe as classic Chili Peppers. Sure, they played tracks off their new album, The Getaway, gotta promote that. But they also threw in some old, unexpected bangers like "Higher Ground," "Soul to Squeeze" and "Give It Away," which they closed with.
It was a setlist that was definitely tailored for a city like San Diego, a town that has been following this band since the beginning. Flea even made note of that sometime towards the end of the show.
"San Diego," he said, "thank you for having us, since 1983. Since 1983, we've been playing shows at the Belly Up. 35 years!"
He then brought it up to yell, and eventually a scream, "For 35 years, we've been feelin' the love, feelin' the sunshine, surfing at PB. Yeeeaahhh, motherfuckers!!!"
The show opened with an empty, unlit stage. A dreary oboe played solo over the monitors. The piece lasted for several minutes and was cut off when a spotlight illuminated Flea running, literally, running on stage with his bass, stopping mid-stride, and ripping into a solo. Chad Smith and guitarist Josh Klinghoffer followed behind at their own pace.
The three of them converged into a funk jam that screamed but was intricate, garnished by the musicianship of three masters of their craft. Its sound blasted, but its rhythm flowed, staccato in its composition, legato in its texture, birthed of that classic sound that we've come to know them for (and for a time, longed for), that unmistakable blend of throwback funk and hard rock. Their jam morphed into their opener, "Can't Stop," Anthony Kiedis ran on stage, and the show got going.
It was then that the crowd got to see what the crazy rig that had been hanging over their heads was all about. From the ceiling, high above the crowd, hung hundreds of white cylinders, maybe two-feet long and four-inches wide. All hung in a tight grid, and not appearing to be part of the show, most people hadn't even noticed them upon walking in and sitting down, which made things all the more exciting when the entire grid lit up and dropped down to a level that was just above band and as close to the audience as it could get.
The lights moved up and down with the music, formed patterns and waves and arches and all the while changed color as the mood of the music dictated. It's really one of those things that you just have to see, much like the accompanying animated visuals that played on the big screen behind the band. Those were pretty righteous.
But amidst the psychedelia, the band almost stuck out. The whole production seemed to have been built around them as if none of this was really their idea, as if they just showed up to play some music, and today's stage just happened to be elaborate.
The Red Hot Chili Peppers have never been a stadium band. They're a mid-size venue band. They play stadiums because they have to. And yes, they can hold the attention of a stadium, but putting on a big production has never been what a Chili Peppers show is about. Cheesy as it may sound, a Chili Peppers show is about the music. It always has been. Dress it up with fancy lights and visuals, put them in festivals all you want, but you'll never get a big elegant performance from them. It's a devotion to the craft that manifests itself as simplicity. They're going to play well and have fun. Kiedis might sing a little flat sometimes, but hey, we give the guy a pass. He writes good songs.
But that's all we're really looking for in a Chili Peppers show: a good concert. And that's exactly what San Diego got … plus a really cool light show.
Video Slider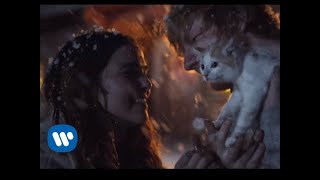 Win Tickets to See Ed Sheeran at the Rose Bowl
Ed Sheeran is back in Los Angeles, and your chance to see him perform is at the Rose Bowl in Pasadena on Saturday, Aug. 18. We are giving away complimentary tickets to the show. For a chance to enter to win, email us at info@lol-la.com with "Ed Sheeran" in the subject line and tell us why you would like to go.