Review: Rings Comes Full Circle to Present Day
Matilda Lutz as Julia and Alex Roe as Holt in Rings
Remember that scary little girl with the long dark hair, white dress and overall terrifying appearance? If you don't, you've lived under a rock for the past 15 years.
The Ring (2002) scared the life out of moviegoers everywhere as it told the story of an urban legend about a cursed videotape that was rumored to kill anyone, seven days after they viewed it.
Well, she's back. As is the general premise, but this time, there's a slight twist.
The newest installment, Rings (not to be confused with the 2005 short film of the same name), features Matilda Lutz as Julia, Alex Roe ("The Fugitive") as Holt, Johnny Galecki ("The Big Bang Theory") as Gabriel, Vincent D'Onofrio ("Daredevil") as Burke, Aimee Teegarden ("Friday Night Lights") as Skye and Bonnie Morgan as Samara.
The film, directed by F. Javier Gutierrez and presented by Paramount Pictures picks up 13 years after the events from the first chapters of the films. It centers on Julia and her boyfriend Holt, whom she risks her life for to save him from the curse. When she realizes something is very wrong after not hearing from Holt in days and receiving a strange video call from his account, Julia travels to his college, and the trail down the rabbit hole begins.
Unlike the previous films, there is a way to save oneself from dying, passing the death sentence onto someone else by having them watch the video. In an effort to save Holt, Julia goes on a search to discover what really happened to Samara and why she won't let go.
Sadly, the film wasn't terribly scary. Chances are, if you hated the first film and thought it had a bad storyline and was subpar in the horror genre, you might not care to see this. The original film was terrifying because it seemed different and new, almost a fresh breath of air. Rings is good for a few jump scares at loud sounds and cringes at Samara's face, but it won't keep you up at night. While the plot does get interesting in some areas, it drags in others.
If you're looking for something to do on Friday night and feel like watching a movie, this is a decent choice. But don't expect to come out with a new appreciation for the franchise. On the bright side, you won't be too scared to get up to go to the bathroom during the film.
Is the film something you absolutely need to go see the minute it comes out? No. Will it scare your pants off? Probably not. But if you're just looking for something to watch, this is as good as anything else. Or you could save yourself the money and just re-watch the older films.
———————————————————-
Rings
Paramount Pictures
Now in theaters
3 Stars
Films are rated on a scale of 5 stars (must-see), 4 stars (exceptional), 3 stars (solid), 2 stars (average) and 1 star (unworthy).
Video Slider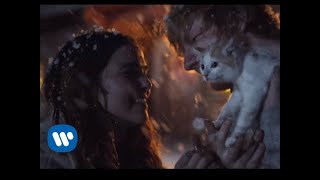 Win Tickets to See Ed Sheeran at the Rose Bowl
Ed Sheeran is back in Los Angeles, and your chance to see him perform is at the Rose Bowl in Pasadena on Saturday, Aug. 18. We are giving away complimentary tickets to the show. For a chance to enter to win, email us at info@lol-la.com with "Ed Sheeran" in the subject line and tell us why you would like to go.