Review: Roberto Tapia Packs the Microsoft Theatre at L.A. Live
Roberto Tapia performing Friday, Feb. 17, 2017 at Microsoft Theater at L.A. Live. (Marvin Vasquez / LOL-LA)
Los Angeles' massive showers of rain and high winds didn't stop Regional Mexican music genre aficionados from witnessing Roberto Tapia's live performance on Friday night at the Microsoft Theatre at L.A. Live.
The packed venue of thousands saw opening act Giovanny Ayala delivered a romantic set, which pleased everyone – especially the ladies in attendance. That set the tone for the rest of the night, particularly because superstar Mexican actor Rafael Amaya did the honors of appearing on stage to announce the much-awaited appearance of Tapia.
Tapia, now 36 years of age, got off to a quick start with "No Fue Facil." Dressed in a black/gold leather jacket, black T-shirt, black/charcoal jeans and his signature black hat and black boots, Tapia rendered the tune with much passion. "No Fue Facil" details a breakup, one that features a woman breaking a man's heart and the difficulties of moving past that.
While "El Cachorro del Animal" got everyone up to dance near their seats and in the aisles, "La Combinación Perfecta" sparked a sing-along amongst everyone.
One of the crowd-pleasers of the night came when he sang "Mirando Al  Cielo," an upbeat and super sentimental melody. In the middle of the presentation, Tapia would occasionally halfway kneel down to take selfies and photos with his lady fans. That's a class act there engaging with his loyal fanbase.
In the later part of the show, Tapia – now sporting white jeans and an extravagantly colored top – continued to perform track after track with the presence of Ayala in the front row. People loved it.
And his seventh show at Microsoft Theater (formerly known as Nokia Theatre L.A. Live), just like his past six performances, was a true success.
Video Slider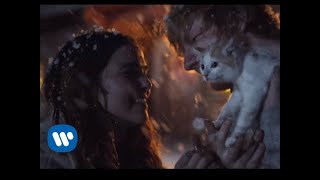 Win Tickets to See Ed Sheeran at the Rose Bowl
Ed Sheeran is back in Los Angeles, and your chance to see him perform is at the Rose Bowl in Pasadena on Saturday, Aug. 18. We are giving away complimentary tickets to the show. For a chance to enter to win, email us at info@lol-la.com with "Ed Sheeran" in the subject line and tell us why you would like to go.