Review: Romeo Santos Renders Pop-Up Show at the Theatre at Ace Hotel in L.A.
Romeo Santos during his pop-up show at The Theatre at Ace Hotel in downtown Los Angeles. (Courtesy Photo)
No surprises here.
Critically acclaimed bachatero Romeo Santos, 35, flew in from New York to deliver a TIDAL pop-up show on Saturday night at the Theatre at Ace Hotel in downtown Los Angeles and, as expected, left everyone in attendance speechless and desiring much more.
The chic venue, which easily sits 1,600 guests, experienced a 50-minute set from the former bachata quartet Aventura lead singer days after he released the track "Héroe Favorito" and its video on Valentine's Day.
After the songwriter's performance began with "La Diabla," a soothing "Llévame Contigo" followed. Later, "Odio," now a crowd favorite, appeared to steal the night before the audience witnessed "Propuesta Indecente" – unarguably one of Santos' most popular songs (particularly with its sultry video).
Interestingly enough, the highlight of the night came as the music stud asked his public to personally request songs. And, of course, he romantically struck us with a five-melody a cappella segment filled with pieces from his Aventura days featuring the likes of "Hermanita," "Soy Hombre" and "Angelito." But "Un Beso" was the obvious winner. The mellifluous-sounding tune is like no other in Aventura's musical repertoire.
The Bronx-born King of Bachata also made time for the uptempo, urban-sounding "Noche De Sexo" (his very successful track alongside Aventura and reggaeton duo Wisin y Yandel).
Santos saved his newest for last in "Héroe Favorito," which is Santos' first single from the upcoming album, Golden. The catchy tune details somewhat of a heroic romance where Santos finds himself serenading his imaginative beliefs of being a hero (i.e. Hulk, Spider-Man and Flash, among others) to a rather beautiful woman en route to fully enamoring her.
Golden, his third studio album as a solo artist, is expected to drop in May of this year.
"Recording an album is a great feeling, but I needed this," Santos says, acknowledging he's missed the interaction with fans and simply seeing them pleased by his uniquely infectious music.
Saturday's show in Los Angeles was the second in as many days. Santos also delivered a live performance Friday night in his native New York.
"That's that Golden touch right there, L.A.," Santos said minutes before leaving.
Video Slider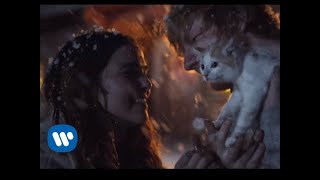 Win Tickets to See Ed Sheeran at the Rose Bowl
Ed Sheeran is back in Los Angeles, and your chance to see him perform is at the Rose Bowl in Pasadena on Saturday, Aug. 18. We are giving away complimentary tickets to the show. For a chance to enter to win, email us at info@lol-la.com with "Ed Sheeran" in the subject line and tell us why you would like to go.