Review: Sam Elliott Brings Great Depth to The Hero
Sam Elliott stars as Lee Hayden in The Hero.
There's more than a bit of biographical similarity between Sam Elliott and his character in The Hero, in which the actor plays a semi-retired former star of westerns and B-movies who has made a decent living doing voiceovers. The film even features Katharine Ross as Elliott's ex-wife, although off-screen they have maintained their marriage for over 30 years, which counts as several lifetimes for Hollywood stars. Needless to say, Sam Elliott is very convincing playing a man who is essentially Sam Elliott, but that does not do justice to the depth Elliott brings to The Hero, often more than the film itself deserves.
Elliott stars as Lee Hayden, who despite a long, if undistinguished career in Hollywood, longs to work more significant roles than the commercial voiceovers that he is offered, lest he waste his time at his only significant pastime, getting stoned. In a short period, Lee both gets a diagnosis of a particularly deadly form of cancer and learns that he is being honored for his career by a western appreciation society, and thus faces his mortality in several different ways. While buying pot from his drug dealer (Nick Offerman, and those who could never imagine Ron Swanson in a hoodie will be amazed by his appearance here), Lee meets Charlotte (Laura Prepon of "Orange Is the New Black"), a much younger woman who takes an interest in him. At the same time, Lee has to figure out how to tell his ex-wife and his daughter (Krysten Ritter of "Jessica Jones") about his diagnosis, despite his estrangement from the latter.
There's a bit of unbelievable plotting in The Hero, starting with the relationship between Prepon and Elliott, who is roughly twice her age. This idea that a beautiful younger woman would be attracted to an elderly man is one that Hollywood repeatedly tries to sell, and it's rarely that convincing. Prepon gives it her best – her dry affect makes her seem inherently sensible – but this is one type of story that requires more than just passing it off as a character quirk and having the two acknowledge how unlikely it is. The subplot involving Lee and his estranged daughter also feels a bit underwritten, as if writer-director Brett Haley surmised that broken parent-child relationships are so familiar that he need not fill in the blanks.
The particular dynamics of several relationships in The Hero might not work, but they do serve their purpose in allowing Elliott a handful of incredibly juicy scenes, most notably a drug-fueled acceptance speech and an audition that goes awry. Elliott has never quite gone away, but the last few years have been a reminder of his talents, from his work opposite Blythe Danner in I'll See You in My Dreams (also by Haley) and his explosive single scene in Grandma opposite Lily Tomlin. And some of the lower-key interactions between Lee and his friends and family show a ring of truth that the more-plotted ones do not. It's no surprise that Elliott and Ross work seamlessly together, but so do Elliott and Offerman, just as they did during Elliott's guest stint on "Parks and Recreation."
The Hero may not be Sam Elliott's equivalent to Bruce Dern in Nebraska or Peter Fonda in Ulee's Gold, other examples of under-heralded actors who receive unexpected late-career leading roles, but it is not because of any deficiencies in his performance, which is funny, moving and exploits Elliott's unbelievably rich voice to its fullest. The Hero may be fine, but it is entirely a credit to Elliott in a role that he knows so well.
———————————————————-
The Hero
The Orchard
In select theaters June 9
3 Stars
Films are rated on a scale of 5 stars (must-see), 4 stars (exceptional), 3 stars (solid), 2 stars (average) and 1 star (unworthy).
Video Slider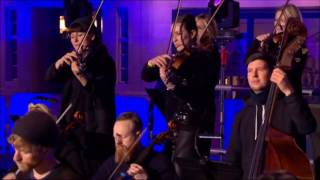 Win Tickets to See Pete Tong at Hollywood Bowl
Pete Tong is back in Los Angeles, and your chance to see him perform is at Hollywood Bowl on Thursday, Nov. 9. We are giving away complimentary tickets to the show. For a chance to enter to win, email us at info@lol-la.com with "Pete Tong" in the subject line and tell us why you would like to go.