Review: San Miguel, Cecilia Noël and Colin Hay Collaborate Because of a Tres
San Miguel joins forces with Cecilia Noël and Colin Hay on his debut solo release, Un Poquito de Amor Everyday.
The word "tres" in Spanish means the number 3, but in certain parts of Latin America a tres also refers to a creolized musical instrument developed in Cuba from a small European guitar, tiple or bandola. This guitar-like instrument with double strings is most prominent in the Cuban music genres of the son, it's precursor the changüías as well as other Afro-Cuban genres. You can find a version of the tres in Puerto Rico and the Dominican Republic along with its cousin the quarto (four), which has four double strings.
Some of the most notable tres players were born in Cuba, including the legendary blind, Afro-Cuban musician Arsenio Rodríguez who died in Los Angeles in 1970, as well as Eliades Ochoa of the Buena Vista Social Club fame, just to name a few.
Now, thanks to a "Man from Down Under," Colin Hay (of '80s band Men at Work) and his lovely wife Cecilia Noël (also an accomplished artist who hails from Peru), the City of Angels is now home to one of the finest, young tres players from Cuba. San Miguel Perez-Rodriguez, aka "El Tresero Moderno/the Modern Tres Player" or San Miguel for short, worked on Noël's album, Havana Rocks, back in 2014 but has now come into his own as a singer-songwriter thanks to the couple.
On Tuesday, May 2, at the Gibson Showroom, which is a part of the Live Nation complex in Beverly Hills, a CD release party was held for San Miguel's first solo release, Un Poquito de Amor Everyday, with a delectable spread from Peruvian restaurant Puro Sabor in Van Nuys and an open bar. The eclectic and enthusiastic crowd was wined and dined to its heart's content ending with a fantastic live set from San Miguel, Noël, Hay and a talented band of local musicians.
The official release of San Miguel's album for the general public will be June 1st at The Mint, and it will include a very special guest in Aleks Syntek.
What's really interesting to me about this recording, in addition to the story on how these three talented artists came together, is the bilingual aspect of its songs as well as the fusion of many music genres in its production. In the songs you can hear influences of reggae, bachata, bolero, trova and son all woven with a pop sensibility that not only is infectious but can easily cross over into both the English and Spanish music markets.
The 33-year-old San Miguel possesses a boyish demeanor, radiant smile and a dulcet voice that meshed perfectly with Noël's bluesy timbre in their numbers together. He at times reminded me of two of my favorite Latin music artists, Dominican Juan Luis Guerra with echoes of Cuban-American singer/composer Willy Chirino. All the compositions in this recording were written and arranged by San Miguel except for the first single, "Un Poquito de Amor Everyday," which he co-wrote with Hay and Noël and, "Conga en California" written with Noël.
Of course, the evening couldn't come to a close without San Miguel, Noël' and the band giving a rousing, energetic rendition of the first single from the CD joined on stage by Hay on guitar who added his experienced unique vocal style to the number. To the delight of the crowd, as an encore, a Latin-tinged version of Men at Work's iconic 1981 hit "Down Under" made just about everyone dance, especially yours truly.
Video Slider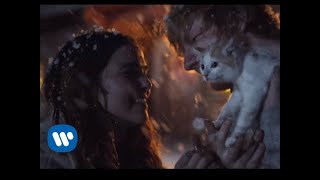 Win Tickets to See Ed Sheeran at the Rose Bowl
Ed Sheeran is back in Los Angeles, and your chance to see him perform is at the Rose Bowl in Pasadena on Saturday, Aug. 18. We are giving away complimentary tickets to the show. For a chance to enter to win, email us at info@lol-la.com with "Ed Sheeran" in the subject line and tell us why you would like to go.