Review: Scarlett Johansson Cements Action-Star Status in Ghost in the Shell
Scarlett Johansson stars as Major in Ghost in the Shell. (Jasin Boland/Paramount Pictures and DreamWorks Pictures)
In looking at the career of Scarlett Johansson, two films set in Tokyo act as bookends that illustrate the career of the actress thus far. In the 2003 film Lost in Translation, the young starlet engaged in a low-key flirtation with Bill Murray in the role of an aging action star staying in Japan to film a commercial. In her cinematic return to Japan in Ghost in the Shell, the remake of a 1990s Japanese anime that found an avid audience in America, it is Johansson who is now the action star herself, thanks to increasingly prominent roles in the Marvel Cinematic Universe and even her original hit Lucy.
The Scarlett Johansson who once was a stand-in for Sofia Coppola and a muse for Woody Allen is now a distant memory. Ghost in the Shell confirms Scarlett Johansson as cinema's foremost female action star and likely the most bankable now that Angelina Jolie has shifted her focus to real-life heroism rather than cinematic.
Ghost in the Shell takes place in the futuristic Japan, in which humans can be enhanced through the implantation of technology. It envisions a world in which we are our own computers, essentially, and the crowning achievement of one tech company is the implantation of a human brain into a mechanical form, albeit one constructed to appear human. Johansson's character, Major, is designed as a machine for the government to track down criminals and bring them to justice, until she faces another similar human-robotic hybrid (Michael Pitt, made to look like a weaponized Alexander Skarsgård) who gives her clues to her human life and how she came to be what she is. 
It is generally the case that stories that depict the future are more instructive about the time in which they were made than about the future that they depict. It usually only takes a decade or two before it's clear that the storytellers got the details wrong, but in an interesting way. By this measure, Ghost in the Shell feels very beholden to its 1990s source material in ways that seem slightly antiquated. After all, in the age of WiFi and the Cloud, worries about being hacked from plugging in are no longer necessary. Everyone is plugged in at all times without even the need for wires. This makes for some fascinating moments in the film, as it explores futuristic technologies from an early-90s mind through the lens of 2017 artists. Even a modern retelling can't completely erase those elements that seem specific to the original anime's cultural moment.
Ghost in the Shell works best as a tribute to Scarlett Johansson as action star. Her performance is occasionally a marvel of physicality. She doesn't quite move like a human at all times, as if the rhythm is just a bit off and the posture not quite natural. It's subtle, but still there. The film echoes The Bourne Identity with its story of a character attempting to discover a past that has been lost to them, but as a character study, it doesn't even reach the Bourne series' level of emotional depth, although Juliette Binoche as one of Major's creators puts a Herculean effort into providing it. At first, the idea of the French Oscar-winning legend doing an anime adaptation is itself entertaining, but then again, the same year she did Clouds of Sils Maria, Binoche also did a Godzilla movie. 
Director Rupert Sanders, best known for Snow White and the Huntsman, once again shows a propensity for overwhelming the screen with striking visuals and allowing Hollywood's top beauties a chance to shine. It is a sturdy effort, and the action scenes are perfectly solid. The real attraction, though, is Scarlett Johansson. About 15 years ago she came to Japan an ingenue, and now she gets to return as the action star.
———————————————————-
Ghost in the Shell
Paramount Pictures
Now in theaters
3 Stars
Films are rated on a scale of 5 stars (must-see), 4 stars (exceptional), 3 stars (solid), 2 stars (average) and 1 star (unworthy).
Video Slider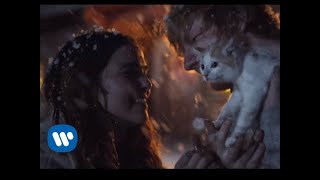 Win Tickets to See Ed Sheeran at the Rose Bowl
Ed Sheeran is back in Los Angeles, and your chance to see him perform is at the Rose Bowl in Pasadena on Saturday, Aug. 18. We are giving away complimentary tickets to the show. For a chance to enter to win, email us at info@lol-la.com with "Ed Sheeran" in the subject line and tell us why you would like to go.