Review: Seu Jorge Performs The Life Aquatic: A Tribute to David Bowie at the Bowl
Seu Jorge served as both opener and headliner for the evening at Hollywood Bowl.
The Hollywood Bowl never fails to impress when it comes their KCRW summer series. Sunday night I had the pleasure of attending the second show of the series, Seu Jorge performing his soundtrack from The Life Aquatic in a tribute to David Bowie. I couldn't have picked a better show to start the summer with. Not only am I a fan of Jorge, I am also an extremely huge fan of Bowie as well as The Life Aquatic.
The concert started while the sun was still out, and people were still having their Hollywood Bowl picnics in their box seats. For the first time in my life, I witnessed an artist open up for himself. Jorge came out with his band and played a few originals to warm the crowd up. It was interesting to see the difference between his original music and his Bowie covers. His originals had a lot more energy to them and were very danceable, while his Bowie covers each had a different influence by region to give a more mood-setting sound. His originals even had the staff dancing in the aisles.
During the quick intermission, I was able to do some people-watching. The amount of red beanies I saw was astounding. One man even wore a tuxedo with his red beanie in honor of the opening scene of The Life Aquatic. I also noticed that the show seemed to be predominantly super models and pregnant women. The Hollywood Bowl always makes for some amazing people-watching.
After intermission, Jorge came out in full Life Aquatic gear and his guitar. The stage consisted of Jorge with his guitar and the Hollywood Bowl Orchestra to back him.  He immediately opened up with "Ziggy Stardust," one of my all-time favorites. After "Ziggy Stardust," he shared the story of when he was contacted about the film. He mentioned that when Wes Anderson asked him if he knew David Bowie's work, he told him he only knew "Dancing in the Street" and often confused him with Billy Idol. He would go into little stories between every few songs throughout the course of the concert.
After the first story, he went into "Changes" followed by "Rebel Rebel." He mentioned that "Rebel Rebel" was the first song they had recorded for the film, but he had no idea how to play it. He went to his trailer for a few minutes and figured he could throw a bossa nova type sound on it, and by God, it worked. Following that came Wes Anderson's favorite Bowie song, "Starman," but not the original or even a cover written by Jorge. No, this cover was done by Nenhum de Nós in 1989.
The rest of the concert consisted of "Rock N Roll Suicide," "Suffragette City," "Space Odyssey," "Five Years"  and "When I Live and Dream. " After that string of songs, he told the audience of how he came to do this Bowie tribute series. He was approached by his ex-wife who was in Los Angeles at the time, and she suggested he do the tour. He said he would do it under the condition that it would also be a tribute to his father, who died three days after Bowie. This story led into "Life on Mars," where Jorge believes Bowie and his father are hanging out.
"Life on Mars" was followed by an encore which consisted of "Space Odyssey" for a second time, which I found very unusual, as well as "Queen Bitch," which was the only song remaining from the soundtrack. Overall, this was quite an amazing experience. I feel this is the closest most will be able to get to experiencing the true beauty of David Bowie now that he has passed.
Video Slider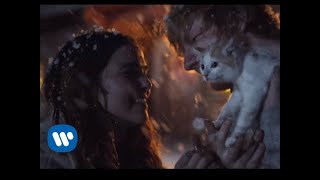 Win Tickets to See Ed Sheeran at the Rose Bowl
Ed Sheeran is back in Los Angeles, and your chance to see him perform is at the Rose Bowl in Pasadena on Saturday, Aug. 18. We are giving away complimentary tickets to the show. For a chance to enter to win, email us at info@lol-la.com with "Ed Sheeran" in the subject line and tell us why you would like to go.