Review: Sigur Rós Bring the Feels to Hollywood Bowl
Icelandic post-rock band Sigur Rós on Saturday, Sept. 24, 2016 at the Hollywood Bowl. (Evan Solano / LOL-LA)
A band like Sigur Rós has always been an anomaly since they formed in the isolated and far off island of Iceland. Their unique blend of melancholic and beautiful soundscapes has pushed the boundaries of music for more than 20 years, and Saturday night's performance at the Hollywood Bowl was a spellbinding and magical experience that resonated beyond music and showcased the Nordic trio's amazing musical prowess.
Looking around at the people in attendance, it was clear that Sigur Rós' appeal reaches far and wide. The crowd was a total mixed bag, from hipster art students to wealthy well-to-do "L.A. people." The smells around the Bowl were a mix of great food, wine and well-hidden marijuana. Fans were a mix of both young and old, and the crowd was all waiting with fevered anticipation for what would be a hands-down amazing performance.
As the lights dimmed and the stage went black, the beating drums of the intro song "Å" seamlessly bled into "Ekki Múkk," from the band's 2012 album Valtari. Singer/guitarist Jónsi Birgisson's angelic vocals transfixed the crowd early, while bassist Georg Hólm and drummer/keyboardist Orri Páll Dyrason helped build the lush and expansive musical landscape on songs like "Dauðalagið,"  from their critically and internationally best-known album, 2002's ( ).
Sticking with the ( )-era songs, they followed up with the intensely and heavy track "Samskeyti," which garnered a roar of approval from the audience as the sober piano-driven ballad played on.
It's difficult to put into words how engrossing and captivating the band's music is. When you go see a band like Sigur Rós live you don't go hoping to hear a specific song, but rather you are immediately swept away by the emotion and feeling of the music as a whole, and last night was no different.
Merely looking at the band's setlist is one thing, but seeing the music live along with the band's amazing lightshow and visuals gave a whole new dimension to their already immersive catalog.
After a brief 10-minute intermission, they returned to the stage with their new track "Óveður," which was released in June. The song is a heavily electronic piece, yet still manages to be very minimal while the lights and visual elements gave a powerful boost that enhanced the aural beauty of the music.
Despite the technical mastery of their live show, the most powerful and visceral parts of last night's performance came from the band members themselves. Birgisson's evocative way of playing his guitar with a cello bow created such unique and haunting walls of sounds that Hólm and Dyrason helped round out over the course of their two-hour performance.
In the past, the band has performed with six to 10 members on stage to recreate the lush and massive sounds of their album, but now are touring as a three-piece. For being a trio, the band created such a huge and expansive sound that mesmerized the crowd and had everyone fixated on what was going to happen next, one person in the crowd next to me said it best: "This is my Xanax."
The band rounded out their set with fan favorites "Ny Batterí" from their 1999 sophomore effort Ágætis byrjun along with "Vaka," perhaps the bands most well-known song, and ended their set with a dazzling extended version of the song, "Popplagið," the final track from ( ).
There is a truly unique quality to Sigur Rós' music that no other band can, or should, attempt to emulate. Their music is abstract, beautiful and emotional. They capture the full range of human emotions and release them in masterfully layered, emotive music, that builds and grows organically like new life. Their music is not about notes and melody, but the emotions behind them.
In Icelandic the word 'sigur' means 'victory,' and last night's performance clearly proved the post-rock band lives up to their name.
Video Slider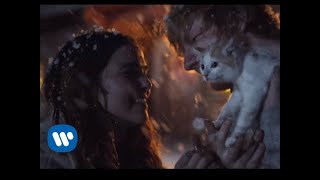 Win Tickets to See Ed Sheeran at the Rose Bowl
Ed Sheeran is back in Los Angeles, and your chance to see him perform is at the Rose Bowl in Pasadena on Saturday, Aug. 18. We are giving away complimentary tickets to the show. For a chance to enter to win, email us at info@lol-la.com with "Ed Sheeran" in the subject line and tell us why you would like to go.