Review: Slight but Consistently Funny, The Little Hours
Dave Franco and Aubrey Plaza in The Little Hours
There was once a time in which the subject matter of The Little Hours would make the movie a subject of fierce controversy and at least somewhat significant protest, but this sex farce that takes place in 14th-century Italy will probably avoid the denunciations that other religious-themed movies once earned. Whether that represents a form of progress is up for debate. Surely the defenders of so-called traditional values would lament that The Little Hours no longer provokes much shock and outrage, and so might also the filmmakers who made it and certainly relished at the chance to be as blasphemous as possible.
This tale of sex-crazed nuns and clergymen may not elicit the same amount of outrage as the filmmakers hoped, possibly because it is small enough to fly under the moralists' radar, but the important question for audiences isn't whether it offends the Catholic church, but whether it makes them laugh. In many cases, it does.

The Little Hours stars Alison Brie, Aubrey Plaza and Kate Micucci as three nuns living in a remote convent in 14th-century Italy. John C. Reilly plays the convent's priest, and Molly Shannon the mother superior. Their staid lives at the convent are upended by the arrival of the servant Massetto (Dave Franco), who is escaping the clutches of a sadistic lord (Nick Offerman) after the servant was caught having an affair with his wife. Reilly's priest passes off Massetto as a deaf-mute so that he will seem less threatening to the women of the convent. This does not work at all as planned. The handsome young Massetto is alternately seduced and tortured by the young nuns who are filled with lustful desires and foul intentions.
Although based loosely on stories from The Decameron, there is no point in The Little Hours in which the story feels anything less than modern, thanks to the casting of primarily comedic actors with personas that feel unerringly contemporary. There are a lot of actors who can slip into period pieces so effortlessly that they almost seem ill-served by contemporary stories (The perpetually-corseted Keira Knightley is probably the best example of this.), but Aubrey Plaza is not one of them.
The "Parks and Recreation" star should not exist in any era before Janeane Garofalo became a celebrity. It seems less likely that Plaza was actually born, but rather rose fully formed from the ashes of discarded VHS tapes of Reality Bites and MTV's "Daria." And yet, the fact that Plaza and many of the other performers seem completely modern makes The Little Hours funnier. It removes any pretense that the story should be taken seriously, allowing the film to exist merely as a raunchy sex comedy, just with medieval nuns and priests in the place of this era's adults.
Because The Little Hours  abandons any pretense of seriousness, it is a slight but consistently funny film. Franco has always excelled as sex symbols with a slight goofiness, so the film plays to his strengths, while the film amps up Plaza's deadpan weirdness to the extreme. The movie delights so much in its comic weirdness that Shannon, one of the greatest "Saturday Night Live" performers and a fine dramatic actress (Other People should have earned her an Oscar nomination.), is underserved by the material.
The funniest performance actually comes late in the film with Fred Armisen (another actor one would never expect in a period piece) as the visiting bishop who sentences various characters for their crimes with the exasperation of a flustered dad who finds that his teenager has thrown a raucous party. Armisen's approach to his character virtually ensures that even the retired Pope Benedict at his most dyspeptic couldn't muster up much outrage for The Little Hours. The movie shoots for blasphemy, but settles for just plain laughs.
———————————————————-
The Little Hours
Gunpowder & Sky
In theaters June 30
3 Stars
Films are rated on a scale of 5 stars (must-see), 4 stars (exceptional), 3 stars (solid), 2 stars (average) and 1 star (unworthy).
Video Slider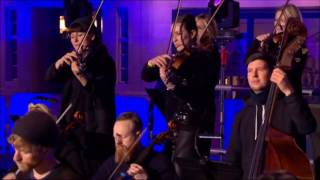 Win Tickets to See Pete Tong at Hollywood Bowl
Pete Tong is back in Los Angeles, and your chance to see him perform is at Hollywood Bowl on Thursday, Nov. 9. We are giving away complimentary tickets to the show. For a chance to enter to win, email us at info@lol-la.com with "Pete Tong" in the subject line and tell us why you would like to go.