Review: Starpower and Magic During John Williams: Maestro of the Movies at Hollywood Bowl
The Hollywood Bowl waved lightsabers to John Williams' conducting. (Evan Solano/LOL-LA)
Star Wars, Indiana Jones, Harry Potter – these three notoriously popular film franchises have one central character that unites them: John Williams. He never fought for the Jedis or taught classes at Hogwarts, but his name and his masterful compositions are synonymous with with films that have captivated audiences and transcended generations.
Not to be outdone by last year's spellbinding performance at the Hollywood Bowl, Williams' triumphant three-night return to the Bowl kicked off on Friday, Sept. 1 with a musical tour-de-force that reminded audiences of the scenes and scores that have spellbound them for generations.
Kicking off the evening was composer David Newman (son of legendary Hollywood composer and longtime friend of Williams', Alfred Newman), who led the Los Angeles Philharmonic through a series of iconic scores from films from the golden age of Hollywood such as Maurice Jarre's Oscar-winning score for the 1965 classic Doctor Zhivago as well as Ray Heindorf's accompaniment to the 1954 Judy Garland classic A Star Is Born.
Newman, who has scored more than 110 films in his 30-year career, is not only a highly sought-after conductor who has appeared with leading orchestras throughout the world, but is also a true lover of the history and legacy of film music. Before going into "Born in a Trunk Medley" from A Star Is Born, Newman took to the mic to give a brief history about the film's original three-hour length and how important it was to preserve film classics.
Despite the brutal heat wave that has scorched through Southern California, the sold-out performance drew sci-fi nerds from across the Southland decked out in their favorite Star Wars character gear. Heat be damned, no one was going to stop the fan dressed in movie replica Boba Fett armor and countless female fans with the signature Leia buns from experiencing the bombastic and dynamic power of Williams' signature style.
Now in his 80s, Williams has spent much of his life redefining modern film scores. From his first foray into blockbuster films, creating the harrowing theme song for 1975's Jaws or the  generationally transcendent and renowned music from the Star Wars and Indiana Jones film series, before he even took to his podium, the audience rose to their feet in a wave of boisterous applause honoring a man whose music has become as famous as the characters on screen.
Starting the night off with the eerie and ominous violins of the 1977 "Close Encounters of the Third Kind Suite," Williams, who crafted its distinctive five-notes that functioned as both the background music and the communications signal of the film's extraterrestrials, wasted little time transporting the audience into another world. 
After touching on "Close Encounters," he turned right away to perhaps his most well-known recent work, the Harry Potter franchise. Williams led the 105-piece Los Angeles Philharmonic through three arrangements from the films starting with "Chamber of Secrets" then going into "Aunt Marge's Waltz" featured in the film Harry Potter and The Prisoner of Azkaban and lastly playing "Harry's Wondrous World," all while a variety of scenes featuring Potter actor Daniel Radcliffe throughout the years were shown on screen.
After visiting the Potter films, Williams surprised the sold-out crowd by introducing Lakers legend Kobe Bryant to the stage. The five-time NBA champion, who  retired last year after a stunning 20-season career playing for the championship Los Angeles team, was immediately met with a standing ovation from the crowd who were chanting "MVP" as Bryant stood on stage to narrate his "Dear Basketball" poem live while Williams conducted a soulful and touching musical counterpart.  The emotional words were originally penned by Bryant for the Players Tribune in November 2015 to announce what would be his final season playing basketball.
The collaboration between Williams and Bryant came to fruition when Bryant (who is a long-time fan of Williams' work) turned "Dear Basketball" into an animated short film and contacted Williams to write a musical accompaniment for the short. As Bryant narrated his emotional goodbye to the game of basketball, the animated short drawn by legendary Disney animator Glen Keane, who worked on Disney classics The Little Mermaid, Beauty and the Beast and Aladdin, was projected overhead.
After a warm embrace, Bryant waved to the crowd one final time before exiting the stage. There was a moment of electric silence before Williams, almost at a loss for words like everyone in the audience as to how he could possibly top what had just happened, casually chimed the words that could only overshadow an L.A. superstar like Bryant…
"Now, we're going to play some music from Star Wars."
Williams noted that despite the fact there would be a new Star Wars film later this year, he couldn't play any music from the upcoming chapter, The Last Jedi. He began his medley of George Lucas' sci-fi masterpiece with "Scherzo for X-Wings," from the 2015 film The Force Awakens, followed by the iconic "Throne Room Theme" that closes out the original 1977 film, A New Hope. He rounded out his Star Wars segment with "Rey's Theme" from The Force Awakens, as he told the crowd about his playful crush on actress Daisy Ridley, who plays the main character Rey in the series. 
It was at this point in the night that nearly every person in attendance, including Bryant who popped back up onstage, had their lightsabers out and waved them in unison to Williams' conducting. He closed out the evening with some selections from 1978's Superman, as well as the theme from E.T. the Extra-Terrestrial before taking his final bows of the evening.
Another year, another triumphant kick off of a three-night run for John Williams and the L.A. Philharmonic. Even as he was telling the crowd that he was sworn to secrecy regarding the new Star Wars film, he did make a point to nonchalantly mention that by this time next year he might be back to play some music from The Last Jedi. With or without a new Star Wars film in the world, Williams' past body of work has enough draw that legions of fans and even NBA legends will come out in Death Star-like heat to see live. Williams' career began decades ago and helped reimagine what film composing could even do.
He created a following of loyal fanatics who don't just obsess over the actors or special effects of a film, but are taken to another world with the music that flows from every graceful wave of his hand. In a genre dominated by computer animation and CGI, that is true starpower and magic.
Video Slider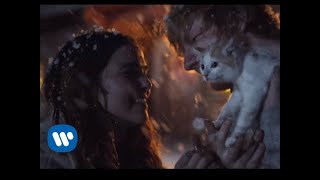 Win Tickets to See Ed Sheeran at the Rose Bowl
Ed Sheeran is back in Los Angeles, and your chance to see him perform is at the Rose Bowl in Pasadena on Saturday, Aug. 18. We are giving away complimentary tickets to the show. For a chance to enter to win, email us at info@lol-la.com with "Ed Sheeran" in the subject line and tell us why you would like to go.