Review: A Not So Stellar Celebration of the Beatles' 50th at the Bowl
The star-studded finale at the Bowl's celebration of the Beatles' 50th. (Michelle Shiers)
It was "A Hard Day's Night" last night at the Hollywood Bowl. Today marks the 50th anniversary of the Beatles' first performance at the legendary venue, and to celebrate, Bob Eubanks – the man who was the promoter of that first Bowl performance – put together this so-called tribute show.
After a short introduction from Eubanks and former radio personality Dave Hull, the evening's ringleader was introduced: Dave Stewart of Eurythmics. Having Stewart was cool and all, but I felt like there were so many other options to lead the evening, such as Paul McCartney, Ringo Starr, heck even Sean Lennon would have been a better choice than Stewart after his ensemble of a band played.
Understand that I am a huge Beatles fan, so my review may seem a little harsh, but after talking to multiple patrons of the Bowl last night, I realized I wasn't alone on this one. The show started going downhill right away when Stewart introduced that his band was made up of mostly his children: Sam Stewart on guitar, Django Stewart on lead vocals and his 14-year-old mini Miley, also known as Kaya Stewart, came out for a couple of songs. Both sons seemed so nervous during the first half that listening to each cover was almost unbearable.
Then, Billy Ray Cyrus took the stage. This is the point where I thought the show would turn around. How could you go wrong with a well-known musician such as Billy Ray? Wrong. Cyrus was just as nervous as the Stewart brothers were. He sang off beat and danced awkwardly around the stage like a country version of Elvis.
Now don't get me wrong, there were some decent performances during last night's tribute to the Beatles. Bass player Michael Bradford started off the second half of the show with a powerful cover of "Sgt. Pepper's Lonely Hearts Club Band." Mary Lambert, the lovely vocalist who joins Macklemore and Ryan Lewis for "Same Love," did a beautiful cover of "Blackbird."  The last notable performance of the evening ame from Allen Stone, who performed "Got to Get You into My Life."
The show took another turn towards disaster when Kaya came out to perform one of my favorite Beatles songs, "Eleanor Rigby." I thought to myself, "there are plenty of talented child singers out there, maybe she won't be like her brothers." Although she had a powerful voice, it was just mediocre. To top that off, she kept strutting around like Miley Cyrus, which was making me pretty uncomfortable.
To sum things up, last night just wasn't Beatlemania for me.
Video Slider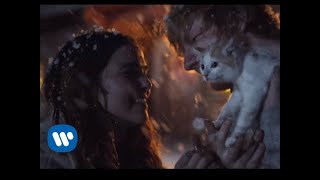 Win Tickets to See Ed Sheeran at the Rose Bowl
Ed Sheeran is back in Los Angeles, and your chance to see him perform is at the Rose Bowl in Pasadena on Saturday, Aug. 18. We are giving away complimentary tickets to the show. For a chance to enter to win, email us at info@lol-la.com with "Ed Sheeran" in the subject line and tell us why you would like to go.