Review: Steve Jobs: The Man in The Machine – Alex Gibney's Candid Look at the Apple Genius
Steve Jobs in Steve Jobs: The Man in The Machine (Magnolia Pictures)
Apple co-founder Steve Jobs is, without a doubt, one of the defining influencers of our nascent 21st century, having revolutionized the way all of us live today. Though his legacy in business is secure, his character as a person is slightly less clear cut. Some proclaim him an eccentric visionary, while others decry him as a heartless tyrant. In sharp contrast to the rosy hue and massaging tone that recent hagiographic works such as Joshua Michael Stern's 2013 film Jobs or Walter Isaacson's biography, Steve Jobs: The Man in The Machine, the latest documentary by Alex Gibney (Going Clear), is a blistering, hard-hitting indictment of the modern-day Prometheus.
Indeed, Man in the Machine paints Jobs as something of a machine himself: mercenary, cold, free of scruples or ethical qualms on any level. From the beginning, Gibney asserts that Jobs worked his way up the ladder at the Atari Corporation in the late '70s by stealing others' work (such as his good friend and colleague Steve Wozniak) and passing it off as his own. A master conman, Jobs purportedly cobbled together the funds used to create Apple by cheating peers and lying that their money would be recouped. Later, once Apple was solidified in the tech game, Jobs gained a reputation as a nightmarish perfectionist who harshly scolded and publicly humiliated employees and underlings while inundating them with a neigh-impossible workload.
As Apple gained traction, so too did Jobs' ego, as he drifted further and further away from the personal connections in his life. Jobs was quick to denounce his infant daughter Lisa, a product of a quick high-school fling. He aggressively denied paternity, insisted upon having a DNA test done, and would not pay child support for years. Even after the lineage was established, Jobs was still a detached and barely interested parent, infrequently seeing his daughter and keeping her at arm's length from the Apple empire (despite paradoxically naming a computer after her in the '90s).
Perhaps one of the most brutal indictments of Jobs is Gibney's assertion that he was aware of the horrible, inhumane working conditions at Apple's Chinese factories – which famously led hundreds of employees to commit suicide. Even more damning is the fact that Jobs spent a large of chunk of time traveling East Asia seeking "enlightenment" as a Zen Buddhist but could never find a spare moment to visit even one of the troubled plants before disaster struck.
On the whole, Man in the Machine doesn't present any information that isn't already publicly available, but it does present the case against Jobs with such powerful, clean precision that it's hard to ignore. Steve Jobs was, without a doubt, a genius who changed the world. But internally, he was more similar to one of his own mechanical creations than he was a fully functioning, empathetic human being. The sad part is, he probably wouldn't have been as great were he weighed down with the burden of human emotion.
———————————————————-


Steve Jobs: The Man in The Machine

Magnolia Pictures
In theaters Sept. 4

4.5 Stars

Films are rated on a scale of 5 stars (must-see), 4 stars (exceptional), 3 stars (solid), 2 stars (average) and 1 star (unworthy).
Video Slider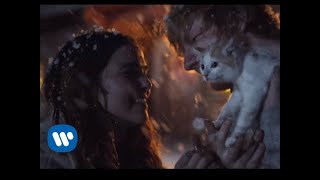 Win Tickets to See Ed Sheeran at the Rose Bowl
Ed Sheeran is back in Los Angeles, and your chance to see him perform is at the Rose Bowl in Pasadena on Saturday, Aug. 18. We are giving away complimentary tickets to the show. For a chance to enter to win, email us at info@lol-la.com with "Ed Sheeran" in the subject line and tell us why you would like to go.