Review: Taste of Chaos 2015 – I Guess This Is Growing Up
Jim Adkins of Jimmy Eats World performing at Taste of Chaos Oct. 3 (Evan Solano/LOL-LA)
The last time I had been to the Glen Helen Regional Park, it was for Ozzfest 2004. Tailgating at a metal festival is exactly what you would expect: hordes of metal purists blasting Pantera and Slayer, drinking horrible, cheap beer and getting busted by the cops for God-only-knows-what. When I was a young 20-something growing up this was my scene, but I had always had a soft spot for bands like Jimmy Eat World, Glassjaw, Silverstein and Thursday. So returning to Glen Helen after 10-plus years, I was curious to see how tailgating an emo festival would be.
It did not disappoint.
My day at Taste of Chaos started as my friends and I arrived on the parking grounds of Glen Helen, with a small arsenal of craft beer and IPAs in tow, clearly just by our taste in beer I could tell this was going to be vastly different than shotgunning Bud Lights, blasting Iron Maiden while drunkenly yelling the lyrics to "Run to the Hills." No, the crowd at this year's revival of Taste of Chaos was a more mature caliber than when it first began back in the mid '00s. We traded the beer pong and metal talk for great beer, reminiscing our favorite albums and bands from high school and talking about seeing Something Corporate live. This year's festival was for the fans, like me, who had grown up with this style of music and loved every word, and now years later have the chance to enjoy it as adults.
After spending a few hours outside among the hip youth of San Bernardino, we trekked up to the gates and made our way into the festival grounds in time to catch Finch, who were just wrapping up their set unfortunately, but from what we heard from the parking lot, consisted of songs from 2002's What It Is to Burn.
I've been to my fair share of music festivals over the years, and I have never seen a stage setup like the one they used for Taste of Chaos. The best way to describe it was like a rotating stage that would flip around, so as Finch finished their set, the reverse side revealed Story of the Year, who kicked their set of right away with cuts from their 2003 debut album, Page Avenue. The stage setup was definitely a creative way to cut down on load times between bands and really helped move the day along with little lagtime in between
Story of the Year vocalist Dan Marsala looked as youthful as ever as he and the rest of the band jumped across the stage and had the crowd reliving their teen angst through every word they were screaming. Other notable early acts were Saves the Day and the legendary Glassjaw, who I was surprised to see play so early in the day.  The Brooklyn-based, post-hardcore band ripped through an impressive set that consisted of songs from their landmark album, Worship and Tribute, with songs like "Ape Dos Mil" and "Cosmopolitan Blood Loss," in addition to tracks from their debut album, 2000's Everything You Wanted to Know About Silence.
Perhaps the most upsetting part of the festival, aside from the prices of food and drinks ($11.50 for a Bud Light tall can, $4.75 for water, $8.50 for a slice of pizza – seriously?!) was the Mark Hoppus DJ set that came off like an annoying practical joke that did not seem to end soon enough. I very rarely get to experience a musical trainwreck, but I go to thanks to Hoppus' set, which consisted of musical abortions like a Taking Back Sunday/ Lil Jon mashup, some bizarre hoedown version of a Blink-182 song, Smashmouth … just Smashmouth that's all and Rick Astley's "Never Gonna Give You Up."
The entire thing was like giving a 16-year-old kid who thinks he's the funniest dude ever control of a DJ console and letting him make a fool out of himself.  I sincerely don't understand why that had to happen, I can only assume that Hoppus' non-Blink band, +44 was too busy being irrelevant to play instead, which actually would have been more fitting than watching a middle-aged goofball make me want to throw my ears away. Can't win 'em all I guess.
I decided to skip the All-American Rejects after I realized that they were the ones who sang that annoying "Dirty Little Secret" song that I hated even in high school, and made my way around the grounds to look at the vendors and check out the booths. I must have been the only one who didn't like that song, as they had a significant turn out for their set.
Right around the time I was regretting spending $20 on a beer and slice of pizza, was when Dashboard Confessional's Chris Carrabba, who was sporting a thick beard in lieu of this signature baby face mug that graced so many high school girls' MySpace profiles back in the day, came out to greet the crowd. Carrabba seemed to be channeling more of a "mini Springsteen" look, as he was sporting a simple white T-shirt, blue jeans and a scuffed up yellow Telecaster, while enchanting the crowd with songs like "Hands Down," "Screaming Infedelities," "Stolen" (which may or may not had me drunkenly texting some girl that I missed her – just like high school!) and of course "Vindicated," because there would have been riots if the thousands in attendance didn't have the opportunity to scream the lyrics to their favorite song from Spider-Man 2. The biggest reaction came at the close of their set as Carrabba told the crowd that there would indeed be new Dashboard music coming soon.
After recovering from the emotional roller coaster of Dashboard, the crowd was waiting in fevered anticipation for the return of Orange County's Thrice, who had reunited nearly a year ago to play a select few music fests. The band kept their set mainly in the realm of songs from their bar-raising albums, 2003's The Artist in the Ambulance and their 2002 landmark The Illusion of Safety. Although their set had a few technical issues, the band still sounded incredibly powerful live, especially guitarist Teppei Teranishi, whose technical mastery of the fretboard danced on top of thundering guitar and rhythm sections of vocalist/guitarist Dustin Kensrue.
Arizona's Jimmy Eat World was probably one of the bands I was most looking forward to going into this festival. It's incredible to think how many consistently amazing albums this band has been able to produce in the time they've been a band.
Their set was an all-star array of their chart-topping hits and deep cuts that both the avid fan and life-long lover of them could appreciate. The band's set was mainly material from their 2001 breakout album, Bleed American, playing songs like "A Praise Chorus," "Get It Faster," "The Authority Song," "Hear You Me," "Bleed American" and rounding out their set with both "Sweetness" and "The Middle."
Watching Jimmy Eat World play easily burned into my brain why I had come to love them growing up. They were energetic, and their music translated into such a powerful feeling, that even softer songs like "23" and their hit "Pain" from my favorite album, Futures, had such a visceral and raw vigor.
Rounding out the evening was Utah's emo heavyweights the Used who played a dynamite set consisting of songs from their diverse discography. Frontman, Bert McCracken appeared on stage dressed as Alex, the twisted antagonist in A Clockwork Orange, complete with a white jumpsuit, eye makeup, cane and a bowler hat.
The band played their hits "Maybe Memories," "The Taste of Ink" and "Buried Myself Alive." They rounded out their set with an encore of "On My Own" and "A Box Full of Sharp Object," from their debut self-titled album, as well as a bizarre Rage Against the Machine/Nirvana medley.
Aside from the outrageous prices for food and drinks, the bands and the atmosphere gave the day a touch of an overall positive feeling of nostalgia. Seeing a bill as important to my formative high school years as this gives me hope that the festival can thrive and put together a killer lineup for us to relive again for many years to come.
Video Slider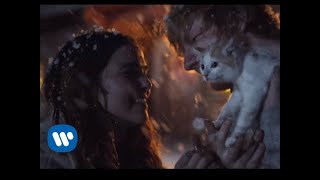 Win Tickets to See Ed Sheeran at the Rose Bowl
Ed Sheeran is back in Los Angeles, and your chance to see him perform is at the Rose Bowl in Pasadena on Saturday, Aug. 18. We are giving away complimentary tickets to the show. For a chance to enter to win, email us at info@lol-la.com with "Ed Sheeran" in the subject line and tell us why you would like to go.