Review: The Darkness Get the Last Laugh
Brothers Dan and Justin Hawkins of the Darkness performing at the Glass House in Pomona Oct. 9 (Evan Solano/LOL-LA)
As my friend Danny and I were heading to the Glass House to go check out the Darkness, we were laughing to ourselves thinking, "that band with that one song!?"
Not in a mean way, I actually remember being a fan of the band's first album, but perhaps I felt a little underwhelmed for the show, since I was in a really bad mood prior to going, it was nothing to do with the band, though. It was a just a bad Friday: Work sucked, my life was stressed and I was in a dismal mood as we were heading to Pomona.
What I needed a great night of music. The Darkness delivered on all fronts.
The band, who are touring in support of their fourth album, Last of Our Kind, kicked off their U.S. tour in true party fashion Friday night in Pomona, and as we approached the venue we could already hear the sounds of Mötley Crüe and Def Leppard being blasted through the PA system. Apparently there was some DJ spinning all kinds of proto-metal, glam rock, classic rock and early metal for the crowd who were vibing hard on the killer music, and who were almost all wearing shirts sporting the Darkness' logo.
There was no opening band this night, which was rather bizarre, but also kind of cool in a way. It was just going to be a night of all Darkness.
As we waited for the band to play we got some drinks at the bar next to the Glass House and were people-watching the crowd, all fans of the U.K. rockers who were genuinely jacked up on the idea of seeing them live. My friend and I laughed to ourselves again about how funny it would be if by the end of the show we were the biggest Darkness fans, rocking their shirts and being superfans after this show.
As we made our way back into the venue we watched as the lights dimmed and the audience cheered in excitement as the band began with "Barbarian," the opening track from Last of Our Kind. The song hits with the heavy rock intensity of early Danzig mixed with the melodic hooks of Judas Priest while singer/guitarist Justin Hawkins paraded around on stage in a flamboyant outfit that looked straight out of Freddie Mercury's wardrobe.
They followed up with the first of many "OH MY GOD I REMEMBER THAT SONG" moments for me with "Growing On Me," from their landmark debut album, 2003's Permission to Land. The crowd absolutely went wild as Hawkins and his younger brother, guitarist Dan, ripped through this amazing Queen-worship track that has one of the catchiest choruses that I completely forgot.
Justin Hawkins had the bravado and swagger that was like a melting pot of my favorite frontmen, part Freddie Mercury, part Jagger, thrown in with some Bon Scott attitude and mixed with some Halford-style wailing, and by the time the band followed with "Black Shuck," the heavily AC/DC inspired opener from Permission to Land, I had completely forgotten about every stressful part of my day. There was only the Darkness, and I was absolutely one with it.
The energy the band played with during "Black Shuck" was next level. I have mainly been going to metal and hardcore shows my entire life, but this was something different. This wasn't a just show, it was a live concert experience – the lights, the music, everything. This is what made music of the '70s and '80s the lost artform it was, because it wasn't just about having killer riffs, it was about transporting your audience to a different place, making them forget their problems instead of trying to duck from swinging arms and moshing for 40 minutes.
The band ripped through "Mudslide" and "Roaring Waters," tracks from their latest album. They followed that with a trip back to their 2005 album, One Way Ticket To Hell… and Back, with bassist Frankie Poullain counting off with a cowbell before the band jumped into "One Way Ticket."
The band rounded out their set coming back to the Permission-era songs "Get Your Hands Off My Woman," "Stuck in a Rut" and, of course, "I Believe in a Thing Called Love," which had everyone cheering and signing along. They followed up with an encore of "Open Fire" and "Love on the Rocks with No Ice" before taking their final bow.
Leaving the show, Danny and I were laughing again, but this time it was from being totally and completely floored from the amazing power and energy of the British rockers. Sometimes all you need to make your day better is some good friends and good music.
The Darkness showed me the amazing power music has when it is presented in a way that's larger than life, and even if love may not be the answer, I definitely believe in a thing called the Darkness … and yes, I did end up buying a shirt.
Video Slider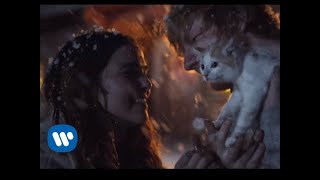 Win Tickets to See Ed Sheeran at the Rose Bowl
Ed Sheeran is back in Los Angeles, and your chance to see him perform is at the Rose Bowl in Pasadena on Saturday, Aug. 18. We are giving away complimentary tickets to the show. For a chance to enter to win, email us at info@lol-la.com with "Ed Sheeran" in the subject line and tell us why you would like to go.