Review: Third-Annual Paella Wine & Beer Festival at Pershing Square – a Delicious Competition
Several different types of the Spanish dish were served at the Paella Wine & Beer Festival.
On Saturday, Oct. 7, the historical downtown Los Angeles public park Pershing Square hosted the third-annual Paella Wine & Beer Festival https://paellawinefest.com/ for an overflow crowd made up of mostly Latino patrons.
Paella originated in the Spanish region of Valencia in the mid-19th century and has variations such as seafood paella, mixed paella and Valencian paella. They all consist mostly of rice with saffron seasoning cooked with different ingredients in a large, shallow, round pan. With the participation of multiple local restaurants and chefs, those attending were able to sample multiple types of paella dishes, Spanish wines and tapas along with authentic sangria, beer, tequila and other beverages.
As part of the day's event, a competition among the food presenters was taking place behind the scenes as selected judges made the rounds of the different kiosks in order to bestow several prizes at the end of the festivities. The top winner will be sent to Spain to compete for the world's best paella. A music stage was also set up that included several DJ sets and live acts, like the talented rock band Duques who did some outstanding covers of Mexican band Maná.
Because the existing layout of Pershing Square offers limited shaded areas, the event suffered a bit from excessive heat, which many tried to mitigate by consuming plenty of the beverages offered. Another problem was the long lines the most people had to endure in order to sample the varied assortments of paella dishes. Regardless of these impediments, the crowd seemed very happy to partake in an event honoring one of the iconic culinary  dishes from Spain, where many in the City of Angels can trace some of their lineage to.
Video Slider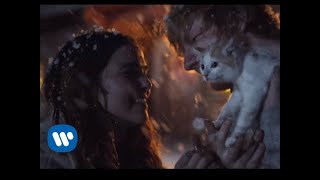 Win Tickets to See Ed Sheeran at the Rose Bowl
Ed Sheeran is back in Los Angeles, and your chance to see him perform is at the Rose Bowl in Pasadena on Saturday, Aug. 18. We are giving away complimentary tickets to the show. For a chance to enter to win, email us at info@lol-la.com with "Ed Sheeran" in the subject line and tell us why you would like to go.