Review: Third Eye Blind's Summer Gods Tour at the Greek
Stephen Jenkins reminded Angelenos that Third Eye Blind are still making music. (Trace Slobotkin/LOL-LA)
Ask most people about Third Eye Blind and they would probably respond with, "The band from the late '90s? Are they still around?" This is a sentiment not lost on front-man Stephen Jenkins, who reminded Thursday night's sold-out crowd at the Greek Theatre that yes, indeed, "We're still making music!"
As a 'thank you' to fans, the band is doing something special during their Summer Gods tour, they're celebrating the 20th anniversary of their self-titled debut, an album that went six times platinum, by playing it from front to back.
Before giving the crowd what they so desperately wanted, the band kicked off the show with six songs, the majority of which were from their most recent releases, Dopamine and the We Are Drugs EP. For the curious, the sound has a similar feel to their earlier work but is generally a bit harder and edgier.
Jenkins, looking like a Vegas showman, eventually shed his sport coat adorned in glowing blue lights and pranced around the stage with a youthful spring in his high-top sneakers. Joining him was original band member Brad Hargreaves on drums along with newer members Kryz Reid (lead guitar), Alex Kopp (keyboards) and Alex LeCavalier (bass). They all seemed to have been schooled in Rockstar 101, going face to face for 'guitar battles' or posing around the drums for maximum effect, the extra effort appreciated by the adoring fans.
Before going back to 1997, Jenkins told the 2017 audience that he understood their desire to share their evening on Instagram, but encouraged them to live in the moment because what they were about to experience "could never fit inside any phone." And then it was time to prove his point.
For the crowd of mostly Gen X-ers, this was more than just your average concert; this was a rare opportunity to step into a time machine and relive their glory days – and they savored every moment of it. From the opening chant of "Losing A Whole Year," the fans were hooked, raucously singing along like a group of drunken college kids at a fraternity mixer who just learned the words to "Sweet Caroline."
And who could blame them? Hits like "Semi-Charmed Life," "Graduate," "How's It Going to Be" and "Jumper" are more than just catchy tunes, they're songs that defined the end of a decade, when a generation was emerging from the depression of grunge and looking optimistically into the face of a new millennium. They spoke to the pressures and troubles of being a teen or young adult, but with a fun, upbeat tempo that encouraged even the most negative listener to keep on keepin' on.
The band was tight, and vocalist Jenkins sounded pretty much the same as he did back in the day, though he did rely on the audience sing-a-long during some of the higher notes that he's commonly known for. It didn't matter one bit. The crowd was belting out the tunes too loudly to care. They savored every moment, especially when the band threw the hit song "Never Let You Down" from their sophomore LP, Blue, into the encore.
And then came time for the final song of the album, and of the night, "God of Wine." The concert-goers in their 30s and 40s had to say a sad goodbye to their trip down memory lane. But as a proud Gen X-er, I can tell you with certainty that we were all thankful for the opportunity to once again relive a "semi-charmed kind of life."
Video Slider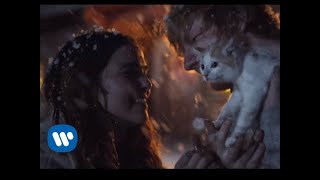 Win Tickets to See Ed Sheeran at the Rose Bowl
Ed Sheeran is back in Los Angeles, and your chance to see him perform is at the Rose Bowl in Pasadena on Saturday, Aug. 18. We are giving away complimentary tickets to the show. For a chance to enter to win, email us at info@lol-la.com with "Ed Sheeran" in the subject line and tell us why you would like to go.