Review: A Touch of Video Game Influence on King Arthur: Legend of the Sword
Charlie Hunnam as Arthur in King Arthur: Legend of the Sword
Whatever the particular faults or merits of a Guy Ritchie film, they always have a boundless energy even when unexpected. King Arthur: Legend of the Sword may not be the typical offering that one would expect from the man who made his reputation on Cockney crime indies during the late '90s, but the spirit of Lock, Stock and Two Smoking Barrels and Snatch remain, even as Ritchie handles a CGI epic that cost exponentially more than the lean capers that made Ritchie famous.
There is more than a touch of video game influence in King Arthur: Legend of the Sword, but that is more descriptive than judgment. Ever since Nintendo became a fixture in nearly every household with children, it has been fashionable to deride movies as mere video games, and that criticism will be applied to King Arthur: Legend of the Sword. Undoubtedly the comparison between Ritchie's movie and video games will be apt in many ways, but it shouldn't be at all surprising that the language and tropes of one major form of pop culture will influence others, whether film, television, music or yes, even video games. It's hardly damning that there are parts of King Arthur: Legend of the Sword that will have audiences thinking about the many sword-and-sorcery games that are popular with anyone from pre-teens to middle-aged players who remember the 8-bit "The Legend of Zelda."
King Arthur: Legend of the Sword stars Charlie Hunnam, fresh off his career-best performance in The Lost City of Z, as Arthur, an orphan raised in a brothel who is captured by the king, Vortigern (Jude Law), to determine whether he can free the sword Excalibur from the stone in which it is lodged, thus proving that he is the true descendant of Vortigern's brother, Uther Pendragon (Eric Bana), whom he deposed and murdered. Arthur proves himself the rightful heir and escapes Vortigern's clutches with the help of a band of rebels who wish to defeat the cruel king. There are brief touches to the famous aspects of the Arthurian legend, such as the Lady of the Lake and, of course, Excalibur itself, but it excludes many of the others, such as Guinevere and Merlin, but the filmmakers have to save something for a sequel.
The best aspects of King Arthur: Legend of the Sword are those that seem to recall Ritchie's best work. He does well with the banter of Arthur and his friends, who are essentially the medieval version of Ritchie's beloved Cockney toughs. Hunnam is far more appealing as a cunning lowlife than as the heroic king, but that's inevitable given the role. Everyone always prefers the Beast to the Prince he becomes, after all. Perhaps the most perverse thing about the film is that it re-teams him with Aidan Gillen, best known as the most treacherous character on "Game of Thrones." Both first gained attention in America for the BBC series "Queer as Folk" in which Gillen seduced the underage Hunnam, so it's a shock seeing the two together again in far different circumstances.
There is an inherent silliness to King Arthur: Legend of the Sword, but that's almost always preferable to the leaden seriousness that films from this genre can fall into. Peter Jackson would have stretched this story out to three movies over a nine-hour period, not including the director's cut on DVD. Better to just to have its heroes conjure 100-foot tall CGI snakes and its villains transform into what has to be the final boss in some video game. After all, King Arthur: Legend of the Sword knows from whence it came.
———————————————————-
King Arthur: Legend of the Sword
Warner Bros.
In theaters May 12
3 Stars
Films are rated on a scale of 5 stars (must-see), 4 stars (exceptional), 3 stars (solid), 2 stars (average) and 1 star (unworthy).
Video Slider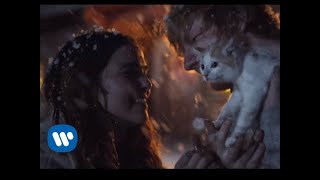 Win Tickets to See Ed Sheeran at the Rose Bowl
Ed Sheeran is back in Los Angeles, and your chance to see him perform is at the Rose Bowl in Pasadena on Saturday, Aug. 18. We are giving away complimentary tickets to the show. For a chance to enter to win, email us at info@lol-la.com with "Ed Sheeran" in the subject line and tell us why you would like to go.