Review: Tower to the People Documentary Sheds Light on the Genius and Tragedy of Nikola Tesla
Nikola Tesla's quest to build Wardenclyffe is documented in Tower to the People.
Thomas Edison may be considered the modern father of electricity, but over the past several years, it is Nikola Tesla who has held a greater grip over the modern imagination. Much in the way that Bill Gates succeeded in dominating the personal computing business but never caught the public fascination in the way that the tragic story of Steve Jobs did, Tesla is the underdog in comparison to Edison around whom myth-making can happen. Success stories may be appealing, but rarely are compelling, so it is only natural that it is Tesla who inspires innovators like Elon Musk, while Edison is the name taken by stodgy power companies.
The documentary Tower to the People: Tesla's Dream at Wardenclyffe Continues takes on the myth of Nikola Tesla and expands it to almost supernatural level. While ostensibly about historical fact, the documentary approaches it in a manner that plays it up as almost a tall tale. There are hints of madness in it that seem right out of Mary Shelley's Frankenstein. Even the name of the location where Tesla intended to build his tower that would provide electricity, Wardenclyffe, is evocative of 19th-century literature. It is a wonder that none of the Brontë sisters used it in their writings.
Director Joseph Sikorski effectively blends historical documentation and modern-day interviews with this sense of wonder and madness that is appropriate to the story of Tesla. Tower to the People portrays him with a sense of reverence, even if the mythological references that Tesla evokes are ones of tragedy. There is a touch of Icarus, who flew too close to the sun, in Tesla's story, as well as a touch of Babel; then again, it is hard to have a story about the failed building of a tower without thinking of that Biblical tale.
Tower to the People offers certain parallels to the modern era in the story of Tesla and his fight against corporate greed, making it an interesting mixture of myth-making and political commentary applicable to contemporary society. The forces that doomed Tesla still remain today, and if it may never be possible to construct the tower that Tesla envisioned, Tower to the People ensures that the legendary inventor will still have a shrine in his honor.
———————————————————-


Tower to the People


Colossal Molehill Productions
Now in theaters
3 Stars
Films are rated on a scale of 5 stars (must-see), 4 stars (exceptional), 3 stars (solid), 2 stars (average) and 1 star (unworthy).
Video Slider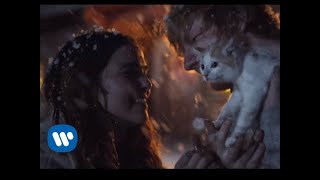 Win Tickets to See Ed Sheeran at the Rose Bowl
Ed Sheeran is back in Los Angeles, and your chance to see him perform is at the Rose Bowl in Pasadena on Saturday, Aug. 18. We are giving away complimentary tickets to the show. For a chance to enter to win, email us at info@lol-la.com with "Ed Sheeran" in the subject line and tell us why you would like to go.