Review: Ty Segall Rocks Acoustic Set at Hollywood Forever Cemetery
Ty Segall treats fans to a unique acoustic show at the Masonic Lodge at Hollywood Forever Cemetery.
The loudest, most audacious voice in Los Angeles indie-rock went unplugged Friday night in front of a sellout crowd at the Masonic Lodge inside the iconic Hollywood Forever Cemetery, as Ty Segall traded his screeching electric guitar for an acoustic one, and his rambunctious onstage persona for a more subdued look. Nevertheless, he killed it onstage in the first of two consecutive shows this weekend at the peculiar lodge. 
The show was part of Segall's tour in support of Emotional Mugger, the eighth solo album of the 29-year-old California native. Although Segall's energy in the Masonic Lodge was expectedly very different from what his fans are accustomed to seeing (He toured earlier this year wearing a baby mask and falling to the ground under the pseudonym Sloppo.), the show's acoustic theme was well received by his engaged and loyal audience. 
King Tuff, of Ty's backing band, the Muggers, went on before Segall and fittingly set the mood for the night with his lyrics for "Big Amplifier" as the audience made its way in. "Where is my big amplifier? Where is my electric guitar? I don't know when they're coming back, I don't even know where the f*** they are," he sang, inciting scattered laughter from the audience. 
Segall then came on wearing a white long-sleeve button-up and brown jeans, holding his acoustic guitar and ripped several songs from Emotional Mugger, as well as "The Faker," "Sleeper," "The Keepers" and "Alone" in a set which lasted close to hour. He even brought in a banjo for a few songs and played it like a seasoned vet as he sat on a throne center-stage. 
You have to give credit to Segall for his boldness to put on a show like this. It was a unique experience for longtime fans, even though it wasn't what they're accustomed to seeing. That sort of quirk is what makes him one of the most beloved and well-rounded indie rockers in Los Angeles. 
As for the Masonic Lodge, the tastefully eerie standing-room-only venue has to be one of the more underrated venues in all of Los Angeles. It's next to the main entrance of the iconic cemetery, on the second story of the lodge. It has a feel of exclusivity and quick moving lines, as if to keep the night's adventure a secret from anyone who shouldn't be there. Once you walk through the courtyard, go up the stairs and enter the second story, there is a wide-open space with shiny hardwood floors and an opulent fireplace (and a solid drink selection!); it's not unlike being at a mansion party. The acoustics are excellent, and the overall production was top-notch. 
Ty Segall plays the Masonic Lodge again tonight (Saturday, Nov. 4) at 9 p.m. 
Video Slider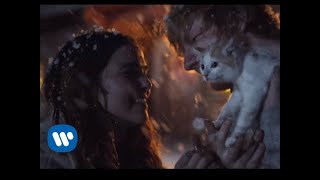 Win Tickets to See Ed Sheeran at the Rose Bowl
Ed Sheeran is back in Los Angeles, and your chance to see him perform is at the Rose Bowl in Pasadena on Saturday, Aug. 18. We are giving away complimentary tickets to the show. For a chance to enter to win, email us at info@lol-la.com with "Ed Sheeran" in the subject line and tell us why you would like to go.