Review: Unrestful Spirits Unleashed in Winchester
Helen Mirren as Sarah Winchester in Winchester. (CBS Films)
Winchester is inspired by the real life story of eccentric heiress Sarah Winchester, who believed that the company's history was a threat to the lives of those she held dear. In the real life, Sarah Winchester built extra rooms to ward off spirits of those who lost their lives by Winchester guns and the Winchester house is now a popular tourist attraction in San Jose, Calif.
In CBS film's Winchester, however, the lore builds into a creepy tale that embraces the occult side of Sarah's Winchester's beliefs.
Starring Helen Mirren as Sarah Winchester, we follow the woman who almost lost her stake in the company while she invites Dr. Eric Price (Jason Clarke) to spend time with her in order to get him to believe her side of the mad rumors going around about her. See, she knows that the other shareholders want to strip her of her powers and classify her as crazy for never stopping construction on her family home and believes that if she can prove to the doctor that she is indeed cursed that he will be on her side.
Every room in the house is for unrestful spirits that come to Winchester and recreates their moment of death to help give them peace. Some move on but some don't. They use Sarah as their medium and with the guilt of her family's legacy in arms sales, she allows it. This deepening mythology as played by Mirren creates a strong horror matriarch that's interesting and powerful. Unfortunately, it's undercut by the bolstering of the doctor's storyline about his inner demons, addiction and connection to a ghost. While the film tries to balance both Mirren and Clarke as leads, it comes off disjointed.
Strewn together seemingly through build-ups for scares, most of which were pretty effective and had some great grotesque ghost designs, the film doesn't quite come together till the last act. Had the film mostly followed Sarah as she exercised the demons of her family's making, the film would have had a great foundation through Mirren's extraordinary performance.
Part paranoid heiress, worried relative, sharp business woman and self-taught medium–Mirren is transformative in the role. She relished every part of the character while the creativity of her equal's arc in Dr. Price falls short. His role could have been subplot with a reveal at the end really because you're left feeling like the film's last act should have put Mirren in the heroic place of power.
Overall with some creepy jumpscares, good practical effects but a disjointed story that didn't serve the amazing Helen Mirren as it should have, Winchester is a decent horror film that doesn't fulfill it's ideas completely. See for Mirren elevating the role for Sarah Winchester. It's everything.
—————————————————————–
Winchester
CBS Films
Now in theaters
3.5 Stars
Films are rated on a scale of 5 stars (must-see), 4 stars (exceptional), 3 stars (solid), 2 stars (average) and 1 star (unworthy).
Video Slider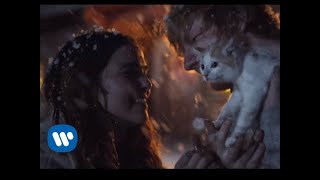 Win Tickets to See Ed Sheeran at the Rose Bowl
Ed Sheeran is back in Los Angeles, and your chance to see him perform is at the Rose Bowl in Pasadena on Saturday, Aug. 18. We are giving away complimentary tickets to the show. For a chance to enter to win, email us at info@lol-la.com with "Ed Sheeran" in the subject line and tell us why you would like to go.