Review: War for the Planet of the Apes Is a Satisfying End to an impressive Trilogy
War for the Planet of the Apes succeeds more than any self-contained third film in the past decade. (Twentieth Century Fox)
Back in 2011, this reviewer had weighty doubts that Fox's nascent prequel to the Planet of the Apes series would ever take off at the box office, let alone garner any positive critical response. Yet here we are, six years, 500 million dollars and an ocean's worth of positive notices, and the Apes franchise manages to wrap things up as strong as could ever be expected from a tentpole based off a 50-year-old Charlton Heston vehicle.
War for the Planet of the Apes is the third film in the new franchise but the second to be directed by Matt Reeves (Cloverfield), who was also behind 2014's utterly excellent Dawn of the Planet of the Apes, the end of which found regal ape leader Caesar (Andy Serkis) and his band of advanced primates fleeing deep into the Muir Woods after renegade ape Koba attempted a violent coup in San Francisco, which led to a fierce backlash from the U.S. Army. Caesar hopes to lead his clan to a new home across the desert, only to find his plans cut short when a twisted renegade military official, known as the Colonel (Woody Harrelson), launches a surprise attack on their compound, killing Caesar's wife and eldest son.
Desperate for revenge, Caesar splits from the clan in pursuit of the Colonel, only to be followed by his wise, faithful companion Maurice and a handful of other primates. Along the way, they encounter and kill a deserter from the Colonel's task force, forcing them to bring along his newly orphaned young daughter, Nova (Amiah Miller), who has been rendered mute by a mysterious illness. Next, the group runs into "Bad Ape" (Steve Zahn), a dim-witted but lovable former zoo captive who's been living under the radar for years.
Soon, Caesar realizes it's not right to bring his comrades into battle and decides to part ways with them as he pursues the Colonel to an abandoned arms depot by the California Border. However, before he can get far, Caesar is blindsided and imprisoned along with the rest of his clan. Trapped, Caesar must find a way to stage an escape before the rest of the army rolls in to take out the rogue Colonel and every living soul in the vicinity.
In terms of rounding out trilogies, War succeeds more than any self-contained third film in the past decade— but is still far from perfect. Major kudos are due, as always, to Weta Digital, who continue to raise the bar in regards to performance-capture technology here. Similarly, the digitally enhanced performers on display are deserving of sparkling accolades, namely the iconic Serkis who continues to bring heartbreaking nuance to his turn as Caesar, not to mention the oft-underrated Zahn, who balances flawless comedic timing with childlike innocence to bring "Bad Ape" to life. Direction under Reeves is as assured as ever, as the future The Batman helmer continues to wow with his poise and finesse behind the camera.
Fairing less well are many of the human performances, though most of their shortcoming can be traced back to an admirable but unambitious script by Mark Bomback. For example, Harrelson's Colonel aims high, equipped with lofty monologues and smoldering stares, but his character arc ends more in whimper than bang. Similarly, Nova feels a lot like a fan-baiting tie-in (Nova goes on to become Charlton Heston's mute female companion in the original '68 Apes.) and never quite reaches the heights of, say, Dafne Keen's Laura in Logan. The climactic sequence certainly delivers on high-wire tension, but the film's title ends up being more of a misnomer. We don't end up getting much of a bombastic "war" sequence, but we are handed one hell of an intense escape.
Overall, if taken on its combined merits, War for the Planet of the Apes only falls flat in comparison with the exceptional grace of its immediate predecessor, Dawn. That aside, it easily bests Rise (not to mention the originals and the abortion known as Tim Burton's version) to stand as the second-best Apes movie of all time.
———————————————————-
War for the Planet of the Apes
Twentieth Century Fox
Now in theaters
4 Stars
Films are rated on a scale of 5 stars (must-see), 4 stars (exceptional), 3 stars (solid), 2 stars (average) and 1 star (unworthy).
Video Slider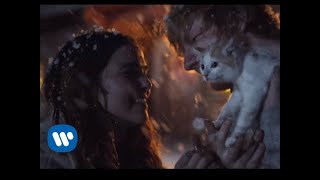 Win Tickets to See Ed Sheeran at the Rose Bowl
Ed Sheeran is back in Los Angeles, and your chance to see him perform is at the Rose Bowl in Pasadena on Saturday, Aug. 18. We are giving away complimentary tickets to the show. For a chance to enter to win, email us at info@lol-la.com with "Ed Sheeran" in the subject line and tell us why you would like to go.