Review: Will Smith Returns to Safer Territory in Bright
Will Smith and Joel Edgerton star in Bright.
The biggest movie star of the turn of this century is now doing movies that premiere on Netflix, and what was once unthinkable should now be considered relatively standard operating procedure for even people like Will Smith, whose run of box office hits from the late '90s up until about a decade ago draws comparison to Tom Cruise in the '90s and Harrison Ford a decade before that. And now, like Brad Pitt earlier this year with War Machine, an A-list star heavyweight lends his star power to streaming. It's a brave new world for Hollywood.
Part of why Smith became such a popular actor was his laser-focused intensity on giving audiences what they wanted. He specialized in crowd-pleasers and knew exactly how his audience wanted to see him. Film-goers adored Smith as a cop and in imaginative blockbusters, and after several less-than-successful departures from character like Concussion and Collateral Beauty, Bright is a return to safer territory for Smith. He plays a cop in a fantastical action film, a role that fits the former Fresh Prince like a glove.
Bright takes place in a Los Angeles where orcs, elves and other mythical creatures are real and interact with humans. Smith plays a cop who has an orc (Joel Edgerton, who directed The Gift and is a reliable partner to bigger stars) as a partner. The two have an uneasy relationship, which is complicated when they have to track down a magic wand that people are prepared to kill for, a complete MacGuffin even by the standards of the genre. It's a mix of action and fantasy that imagines what it would be like if the type of creatures from The Lord of the Rings were put in a Training Day scenario.
The parallels are made even clearer by the talent behind the camera. David Ayer, who directed Smith in last year's Suicide Squad, wrote the original Training Day and is quite comfortable with stories of cops on the mean streets, even if those cops look like they stepped out of Warcraft.
The non-human characters in Bright make the film in part a metaphor about racial injustice – the film is set in the location of the most famous race riots for a reason – which makes it a fascinating choice for Smith. Like Barack Obama, part of Smith's appeal to white audiences was his projection of a post-racial persona, even if that was a bit of delusional projection by fans of either. For Smith to star in a film that is so explicitly about racial intolerance feels like a fascinating development for the notoriously risk-averse star.
This might not make the movie more interesting, since using non-human creatures in stories about race metaphors is even more tired than vampire stories that are code for homosexuality, but it feels significant in the context of Smith's career. This is a little more of a Denzel Washington-type role than Smith usually takes, and it suits him.
No one will mistake Bright for a film on the level of Smith's best mainstream entertainments like Hancock and a few of the Men in Black series, but at least it returns him to genres where he has firmer footing than the treacle he has done over the past several years. Bright is more of a minor work from a major star, but it signals a new variation for Smith while returning him to more secure territory for him, even if it's the living room instead of a movie theater.
———————————————————-
Bright
Netflix
Now streaming on Netflix
3 Stars
Films are rated on a scale of 5 stars (must-see), 4 stars (exceptional), 3 stars (solid), 2 stars (average) and 1 star (unworthy).
Video Slider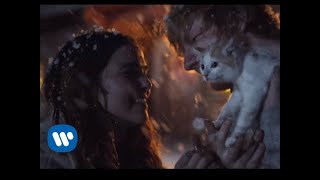 Win Tickets to See Ed Sheeran at the Rose Bowl
Ed Sheeran is back in Los Angeles, and your chance to see him perform is at the Rose Bowl in Pasadena on Saturday, Aug. 18. We are giving away complimentary tickets to the show. For a chance to enter to win, email us at info@lol-la.com with "Ed Sheeran" in the subject line and tell us why you would like to go.