Review: Wish Upon Isn't Great, But Still Enjoyable
Shannon Purser and Joey King in Wish Upon (Broad Green Pictures)
One of the best-known quotes of the legendary film critic Pauline Kael seems tailor-made to apply to a film like Wish Upon. She once wrote, "Movies are so rarely great art that if you cannot appreciate great trash, we have little reason to be interested in them." No one will ever mistake this teen horror thriller for a great film, but it is certainly great trash, the type of comforting junk that will remain in regular rotation on basic cable channels for the next decade.
Wish Upon stars Joey King as Clare, a high school misfit whose mother committed suicide when she was a child and whose father (Ryan Phillippe) constantly embarrasses her by going through other people's garbage to find items to sell. When he finds a box engraved with Chinese characters, he gives it to Clare, and she inadvertently makes a wish in its presence that surprisingly comes true. Clare learns that this magical box will grant her the power to make seven wishes, but each of these wishes has a lethal price for those around her.
The film thus occupies that narrow range of movies that are scary enough to provide thrills, particularly to teen audiences, but not so gory or intense that parents would object. Wish Upon feels like the spiritual successor to the Final Destination series and Phillippe's own I Know What You Did Last Summer. It still seems strange for Phillippe to play a parent of teenagers, even though he is in his 40s and actually has teenage children with Reese Witherspoon. There are few actors who seem less like suburban dads than Phillippe. Then again, if the conventionally attractive Joey King can play a teenage outcast, then the ageless pretty-boy Phillippe can be the dorky dad.
The setup for Wish Upon is a relatively simple one: Clare makes a wish, it comes true, there are unintended consequences, and someone dies. The only variation is the particular wish and what happens as a result of it.
Director John R. Leonetti is adept at shepherding the action through to give the audience enough fake-outs and near-misses so that the movie doesn't feel repetitive, even though the film contains more than enough silliness. Much like the Final Destination movies and nearly everything Phillippe did in the late 1990s, Wish Upon isn't particularly good, but it hardly matters because it is still so much fun. A teen horror movie is probably never going to be an exceptional film, but it can be a trashy piece of entertainment meant for late-night sleepovers.
Wish Upon may be formulaic, but it does have its very distinct pleasures. There is a certain wit to the casting of the supporting roles. Sherilyn Fenn of the original "Twin Peaks" plays Clare's helpful neighbor, and any invocation of David Lynch's television thriller is perfect to set the mood. Shannon Purser plays one of Clare's dowdy, outcast friends, and even freed from the '80s glasses and outfits, she is immediately recognizable as the iconic Barb from "Stranger Things." Typecasting may feel limiting to actors, but Purser could conceivably have an enviable career as the heroine's best friend for decades. Ingenues have a shelf-life, but sidekicks never do.
Even though Wish Upon may not be a great movie, it's still an effective and enjoyable one for what it sets out to do. It's the cinematic equivalent of the sweetest, most sugary candy: It may not be good for you, but sometimes nothing else would taste quite as good.
———————————————————-
Wish Upon
Broad Green/Orion
In theaters July 14
3 Stars
Films are rated on a scale of 5 stars (must-see), 4 stars (exceptional), 3 stars (solid), 2 stars (average) and 1 star (unworthy).
Video Slider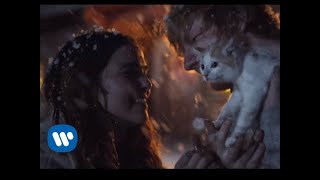 Win Tickets to See Ed Sheeran at the Rose Bowl
Ed Sheeran is back in Los Angeles, and your chance to see him perform is at the Rose Bowl in Pasadena on Saturday, Aug. 18. We are giving away complimentary tickets to the show. For a chance to enter to win, email us at info@lol-la.com with "Ed Sheeran" in the subject line and tell us why you would like to go.