Review: Wonder Yanks at the Heartstrings with the Ferocity of a Terrier
Julia Roberts and Jacob Tremblay star in Wonder. (Lionsgate)
Movies like Wonder are typically referred to in terms like syrupy or saccharine, and are often dismissed as such for so blatantly manipulating people's emotions. This is an accurate description of this Julia Roberts movie, but at the same time, sweetness can also be a compliment. Comparing a tearjerker like Wonder to sugar fails to acknowledge that sugar tastes good. Crowd pleasers are, by definition, pleasurable, and as much as some hardened film critics might recoil from a film that is engineered to elicit emotions, sometimes it is not worth it to resist the chance for the cries and the cheers for which this type of movie is made.
Wonder stars Jacob Tremblay (Room) as Auggie, a 10-year-old child who was born with severe facial deformities and has been homeschooled for most of his life until his parents (Julia Roberts, Owen Wilson) decide that the young boy should integrate with other children and enroll him in a private school for the first time. Wonder tracks Auggie's progress throughout the school year and how his struggles affect those around him, including his sister Via (Izabela Vidovic), who despite being a well-adjusted teenager without her brother's deformities, still has challenges of her own, particularly since Auggie's condition makes him the center of his family's attention.
There are certain plot points in Wonder that any person could predict, such as the bullying that Auggie endures from his classmates, but even though much of the film is formulaic, there are moments when the film goes in interesting directions. The film is an intensely compassionate one that abounds with sympathy for its characters, even the ones who seem somewhat one-dimensional at first. Unlike most movies about children, this one treats them as complex humans, particularly when it deals with Auggie's relationship with his classmate Jack Will (Noah Jupe, quite good both in Suburbicon and this film), who was essentially assigned by the school to befriend him.
Director Stephen Chbosky, who navigated similar territory in The Perks of Being a Wallflower, obviously has skill with younger actors and finding interesting emotional shadings in them. At times the film becomes a bit too warm-hearted and generous toward its characters and people in general, but not every story requires the icy cynicism of a Stanley Kubrick, particularly ones about adorable kids overcoming adversity. This is conspicuously mainstream entertainment and should be considered as such, and not for some darker alternative it was never meant to be.
Wonder requires most of its actors to be warm, sympathetic presences, particularly the adults for whom the script demands less, even though both Roberts and Wilson have a few moments to shine. The film even makes the notoriously prickly Mandy Patinkin as a school principal seem like just the nicest, most understanding person alive, which is somewhat like making Peter Dinklage seem gigantic. This film has an obvious antecedent in Peter Bogdanovich's Mask, which earned Cher a Best Actress prize at the Cannes film festival, but Roberts isn't given nearly the amount of material that the singer-actress received. This is a movie mostly about the kids.
When the movie gets emotional, it doesn't just tug at the heartstrings, it yanks at them with the ferocity of a terrier. The film is unabashed in just how emotional it is, down to its on-the-nose musical cues, for which there isn't even an ounce of subtlety. But Chbosky ultimately gets away with the manipulative nature of the story by approaching it honestly. This is a movie without any pretense of being anything but the heart-warming tearjerker that it is, which makes the material go down smoothly. Wonder is a transparently mainstream piece of entertainment made specifically to make audiences feel good, and as such, it is futile to resist.
———————————————————-
Wonder
Lionsgate
Now in theaters
4 Stars
Films are rated on a scale of 5 stars (must-see), 4 stars (exceptional), 3 stars (solid), 2 stars (average) and 1 star (unworthy).
Video Slider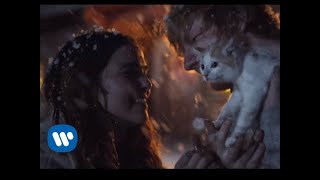 Win Tickets to See Ed Sheeran at the Rose Bowl
Ed Sheeran is back in Los Angeles, and your chance to see him perform is at the Rose Bowl in Pasadena on Saturday, Aug. 18. We are giving away complimentary tickets to the show. For a chance to enter to win, email us at info@lol-la.com with "Ed Sheeran" in the subject line and tell us why you would like to go.